Social Activities
Social activities strengthen our ties as a church community while fostering friendships and emotional support among members and friends of the congregation. They're a good way for newcomers to quickly feel at home. Be sure to view our Events and visit our Calendar pages. Committees work hard but also take time to socialize. And while our classes are for learning, they're also for fun!
UU La Crosse Book Group Returns!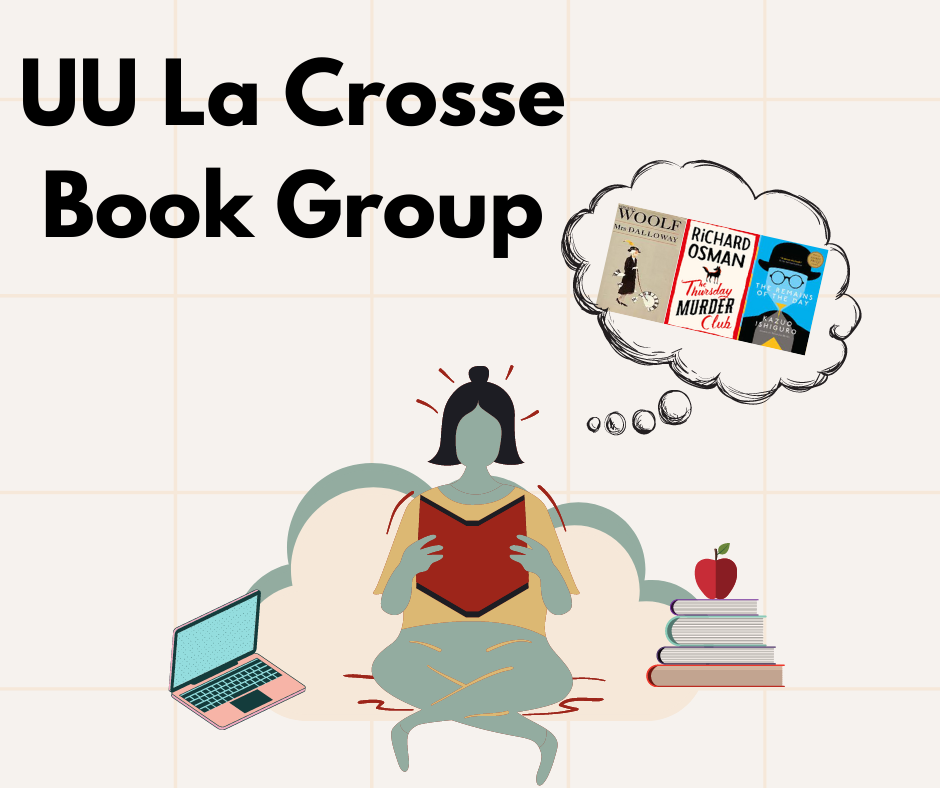 The UU La Crosse Book Group will be back this Fall! Pulling from her experience as an English professor, Heather will be organizing and facilitating this important group for the Fellowship. Meetings will be held in person and Zoom. Ready to sign up? Click here for the registration form. You will also get to help decide which book we'll be starting with! Once we have enough people registered, we will work out the best time/date for meetings. Looking forward to reading and discussing with all of you! Questions? Email Heather at admin@uulacrosse.org. 
Trivia Team: UU & Friends
The UU Trivia Team is closely monitoring the current COVID-19 risk level for La Crosse County and will begin advertising Trivia Night again once the situation is safer. Contact Ron (ronsaturday@gmail.com) or Donna (donnabaueruu@gmail.com) with questions.
Movie Nights

Pre-COVID, once a month, we would gather in our Sanctuary and watch a film on our big screen together. Currently, our movie nights have been occurring virtually. Generally with a social justice theme, these movies inspire, motivate, and make us think! Discussion follows.
Watch for upcoming Movie Night dates on our Events page.
Guilt-Free Craft Group
Currently taking a break for the summer. Check back for updates!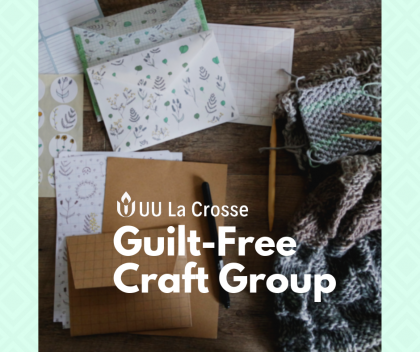 We meet regularly to knit, crochet, sew, bead, chat, snarf cookies, and whatever else we call "crafting." Sewing machines and comparatively quiet electrical tools are welcome. Band saws might be a problem. Join the UU Guilt-Free Craft Group Facebook page for information.
Covenant Groups
You might also want to join one of the small discussion groups. We call them Covenant Groups and they meet twice a month online or sometimes outside. They generally run from September until the end of May. If you are interested in this, please email admin@uulacrosse.org for more information.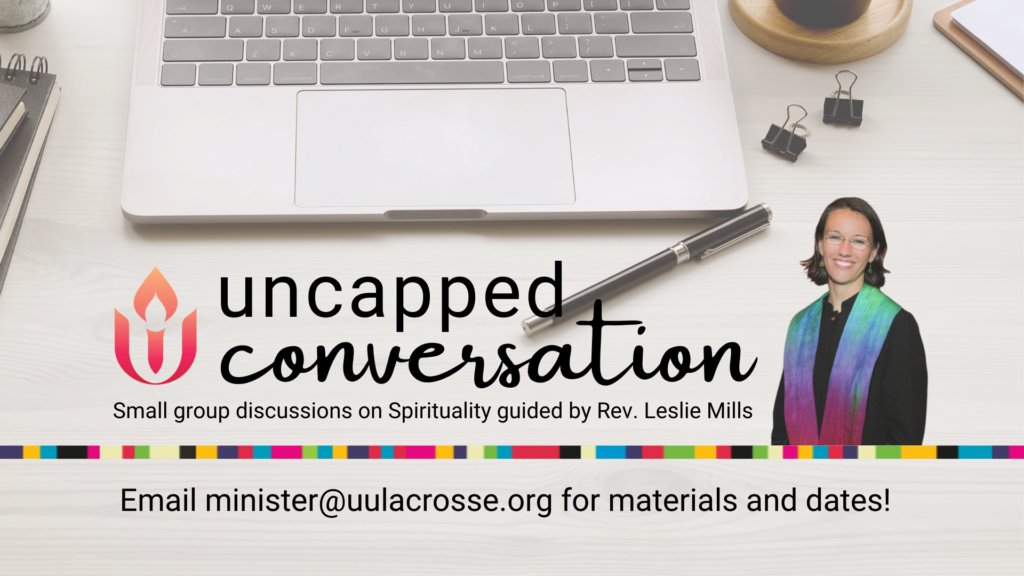 Uncapped Conversations
We all need time to slow down and find a quiet place inside. Sometimes we can do that on our own, sometimes we need others to help us. Uncapped Conversations is a time to gather, think deeply about ourselves as spiritual beings, and reconnect with who we are, what we believe, and who we want to become. Scheduled for the last Tuesday of the month online on Zoom. To register and get more information, please contact Rev Leslie Mills at minister@uulacrosse.org .
Listening Hearts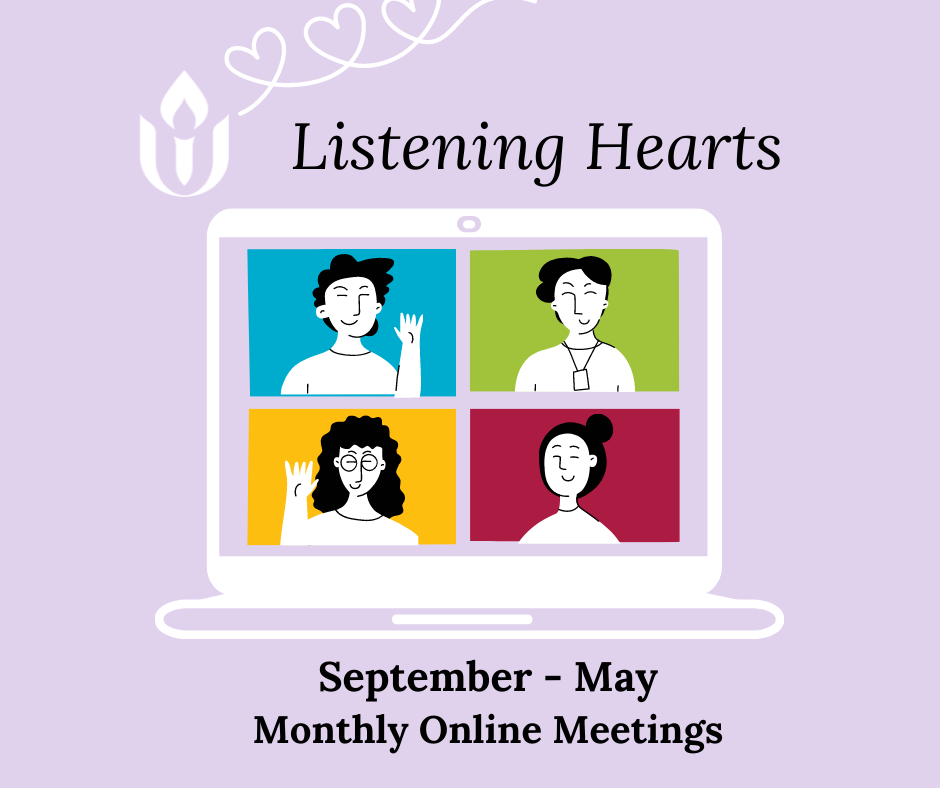 The Listening Hearts group, facilitated by Rev. Leslie, will be starting up again this fall, and anyone is welcome to join! The group will be working through Soul to Soul in seven virtual gatherings via Zoom. Rev. Leslie is also planning an "Open House" at Myrick Park after Sunday Service on September 12th. This will be a great opportunity for anyone interested in Listening Hearts to meet and discuss the details of this group. If you decide to join, you will have the option of borrowing a book from us or purchasing your own copy. In addition to the seven Zoom meetings (one per month), there will also be a December potluck and a final gathering in May at the conclusion of the series. Have questions? Email Rev. Leslie at minister@uulacrosse.org.
Pathways: An Introduction to Unitarian Universalism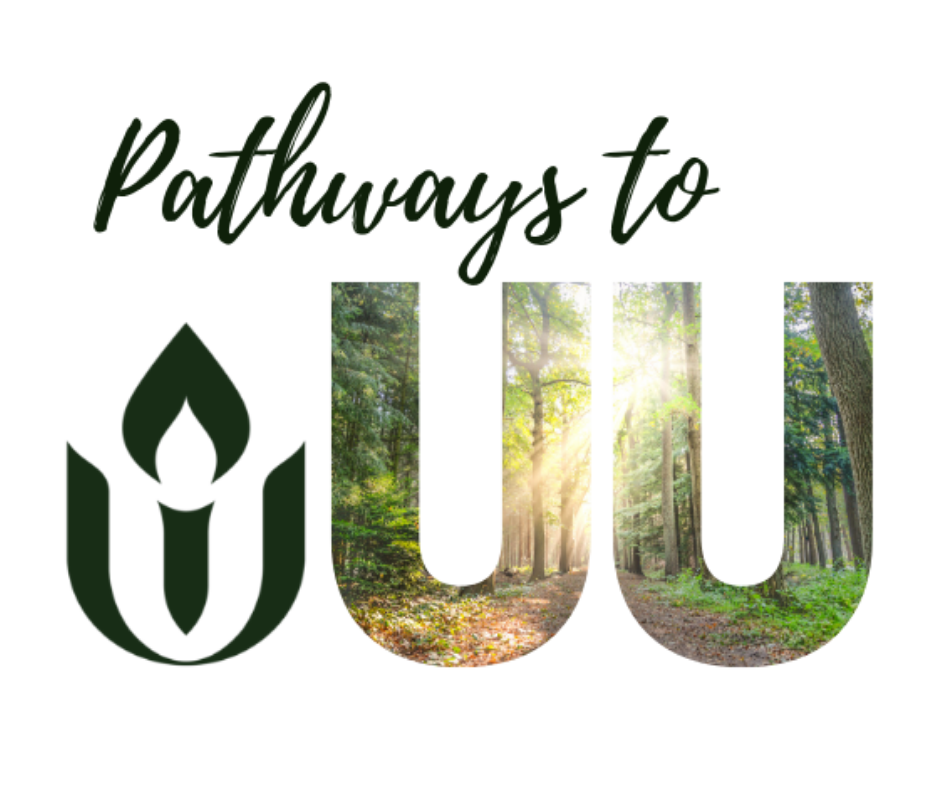 Pathways to UU: An Introduction to Unitarian Universalism hosted by Rev. Leslie Mills. If you are new to Unitarian Universalism, new to the Fellowship, or simply want to refresher, this interactive exploration of Unitarian Universalist history, theology, and congregational life is for you. Contact minister@uulacrosse.org for information about upcoming events.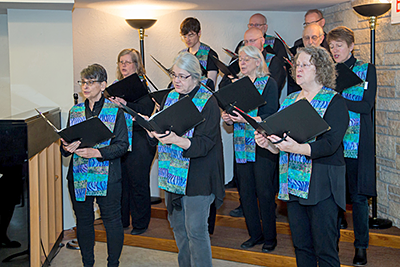 Keep Calm and Join our Virtual Choir!
Fact: Singing in a choir improves breathing, posture, mood, blood pressure, brain power, immune system and energy. Who could ask for anything more? Email choir@uulacrosse.org for more information.