(U)Universal Market & Online Auction
The Unitarian Universalist Fellowship of La Crosse is hosting its very first (U)Universal Marketplace & Online Auction fundraising event this May! The money raised will help support our Fellowship's mission and vision. 
~(U)Universal Marketplace Auction~
The (U)Universal Marketplace Online Auction fundraising event will take place April 29th – May 3rd! Our online auction will feature a variety of carefully selected items that you won't want to miss out on. Click Here to follow us on Facebook so you'll be the first to know when it goes live!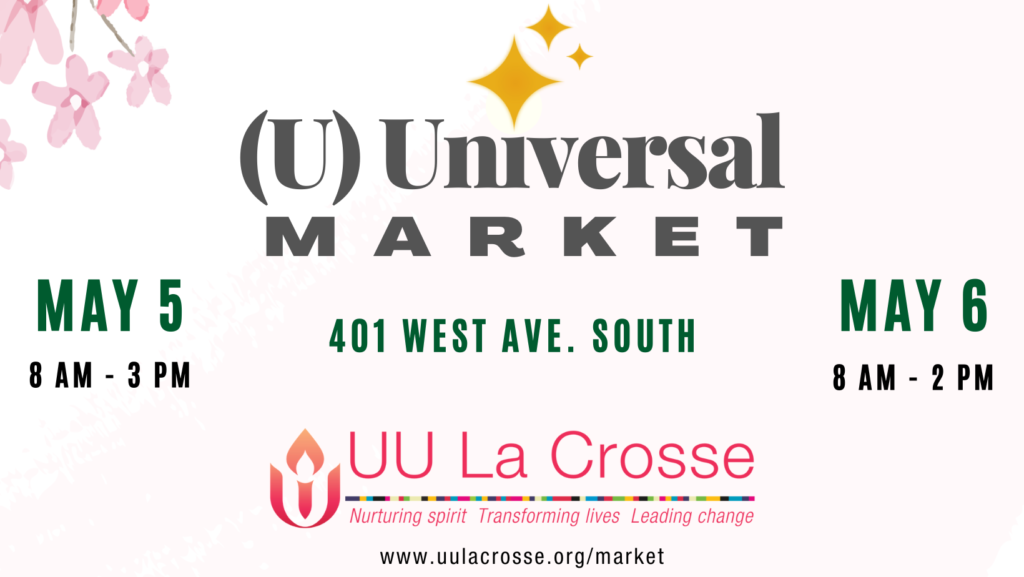 ~(U)Universal Marketplace~
Our Marketplace will include a variety of shops with curated items for sale and will be open for business Friday, May 5th (8 AM – 3 PM) and Saturday, May 6th (8 AM – 2 PM) at the UU La Crosse Fellowship, located at 401 West Ave. S. La Crosse, WI. Parking is available in our lot and on side streets.
Shops include:
Indoor and Outdoor Plants
Fair Trade Goods
The Elegant Flea: Vintage items, antiques, treasures, collectibles, used sporting equipment.
Coffee & Baked Goods
Gently Used Books
Browse our shops to discover a new treasure to bring home!
All forms of payment will be accepted.
The Unitarian Universalist Fellowship of La Crosse is a dynamic liberal religious fellowship and a vibrant, growing congregation with open minds, willing hearts, and working hands. We are a caring community that inspires, nurtures and empowers one another. With trust, respect and compassion, we strive to listen deeply, communicate clearly and act with love toward one another, our community and the world. To learn more about our mission and covenant, Click Here.