Our Minister and Staff
The Rev. Krista Taves grew up on a farm in Southwest Ontario, Canada. She was raised in the progressive Mennonite tradition and her family was always active in church life. She began "preaching" on her parents' farm at age 4, became a pianist for church services at 13, and was introduced to Unitarian Universalism when she was 27 by her mother who attended women's gatherings at the Olinda Unitarian Universalist Church near Kingsville, Ontario. She joined the First Unitarian Congregation of Toronto during her doctoral studies at York University. Soon after she felt the call to Unitarian Universalist ministry and entered seminary at the University of Toronto.
Reverend Krista's sermons stimulate the mind, touch the heart, deepen the soul and move the spirit. They inspire self-reflection and they call for action in serving our own community and the world community. Krista forms authentic relationships easily, and her wisdom, courageous candor, and loving spirit spark spiritual growth and deepening.
Reverend Krista is active in the reproductive justice movement, having served as a volunteer clergy counselor for Faith Aloud, an organization providing spiritual support to women facing reproductive choices, since 2007. She is also active in the Black Lives Matter movement that gathered strength in the St. Louis Region following the shooting of Michael Brown in Ferguson.
Reverend Krista was ordained in 2004 by the First Unitarian Congregation of Toronto and the Unitarian Fellowship of Northwest Toronto. She served congregations in Ontario, Louisiana, Missouri, and is currently serving Quincy (IL) Unitarian, and the Unitarian Universalist Fellowship of La Crosse.
She is married to Laurie Mecham, a Licensed Acupuncturist, who has a successful practice in Ballwin, MO. They enjoy the outdoors, fishing, kayaking, cycling, time with family and friends, their two rescue dogs, and vacationing in their camper.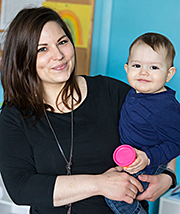 Born and raised "up North" in Lutsen, MN, Emmy spent winters working and playing on the ski hill and summers working in resorts and restaurants. She attended the University of Wisconsin – Stout, where she received a B.S. in Hospitality and Tourism Management. Since graduating from college, she has had an exciting career exploring various facets of the hospitality and service industry. More recently, she enjoyed freelance consulting work with small businesses looking to start up, expand, or reorganize. In April of 2017 Emmy welcomed her son, Ozzie, into the world. She considers herself fortunate to have stayed home with him for a year, but she is glad to resume working. Emmy is thankful to have found the Office Coordinator position here and is glad to return to the Fellowship, which she enjoyed in previous years as a member and an OWL (Our Whole Lives sexuality ed. curriculum) facilitator.
Giorgia Brennan, Technology & Office Assistant
enews@uulacrosse.org
In addition to attending UW-La Crosse in pursuit of a B.S. in Psychology, Giorgia enjoys live music, eating great food, and exploring the outdoors with family and friends in her hometown area of the Coulee Region. She is thankful for being a part of the UU La Crosse team since 2016.
Donna Bauer discovered the La Crosse Unitarian Universalist Fellowhship in the spring of 2016 while she still lived in Wilton WI, about 45 miles east of here. She would commute over most Sundays (often on Sat nights because she loves to go dancing!) and began to make friends and find ways to be of service in the congregation. Donna sold her Wilton home and finally moved to La Crosse in December 2017. In the spring of 2018 she was delighted to be chosen for the new part time position of Outreach Coordinator for UU LaCrosse.

Rita has attended and participated in the UUF's music ministry, singing in the choir and playing flute, since 2015, and she became choir director in early 2017. She performs in the band Prairie Smoke throughout the year and the La Crosse Concert Band in the summer. Music is an integral part of our Sunday services. Come, make music with us! New choir members are always welcome.

Delena Leon, Religious Education Coordinator 

delena@uulacrosse.org
While she is new to the Unitarian Universalist Fellowship Delena realizes she has been a member since birth and is excited to have found the existence of such a place. Working for the public library in town has given her the opportunity to educate, entertain, and serve the families of La Crosse and sees her position here as an extension of that. When she is not pushing books and literacy through fun story times she might be walking her dog Homer and or mixing up something in the kitchen. You might also find her listening to live music and dancing like no one is watching. Delena is looking forward meeting everyone here and serving the community.