Our Minister and Staff
Rev. Leslie grew up in the Milwaukee region as a third-generation UU. She spent time working in a youth program in a science museum before attending seminary at United Theological Seminary in the Twin Cities and then was a settled minister in Elgin, IL before returning to the Twin Cities to live. She has been active in the PrairieStar District Family Camp and MidWest Leadership School. She is an artist, a musician, and a practitioner of aikido martial arts and has a long history of activism in various social justice movements.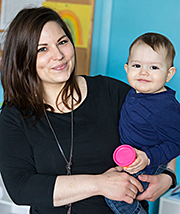 Born and raised "up North" in Lutsen, MN, Emmy spent winters working and playing on the ski hill and summers working in resorts and restaurants. She attended the University of Wisconsin – Stout, where she received a B.S. in Hospitality and Tourism Management. Since graduating from college, she has had an exciting career exploring various facets of the hospitality and service industry. More recently, she enjoyed freelance consulting work with special events and small business start ups. In April of 2017 Emmy welcomed her son, Ozzie, into the world. She considers herself fortunate to have stayed home with him for a year, but she is glad to resume working. Emmy is thankful to have found the Office Coordinator position here and is glad to return to the Fellowship, which she enjoyed in previous years as a member and an OWL (Our Whole Lives sexuality ed. curriculum) facilitator.
Giorgia Brennan, Technology & Office Assistant
enews@uulacrosse.org
In addition to attending UW-La Crosse in pursuit of a B.S. in Psychology, Giorgia enjoys live music, eating great food, and exploring the outdoors with family and friends in her hometown area of the Coulee Region. She is thankful for being a part of the UU La Crosse team since 2016.
Donna Bauer discovered the La Crosse Unitarian Universalist Fellowship in the spring of 2016 while she still lived in Wilton WI, about 45 miles east of here. She would commute over most Sundays (often on Sat nights because she loves to go dancing!) and began to make friends and find ways to be of service in the congregation. Donna sold her Wilton home and finally moved to La Crosse in December 2017. In the spring of 2018 she was delighted to be chosen for the new part time position of Outreach Coordinator for UU LaCrosse, and now serves along with Jen Miller as Connections Coordinator.
Jen is happy to serve the fellowship as a Connections Coordinator. She enjoys getting to know people of all ages and truly enjoys helping others. Jen and her family spend time playing games, making each other laugh, walking their dogs and finding great books to read.

Rita has attended and participated in the UUF's music ministry, singing in the choir and playing flute, since 2015, and she became choir director in early 2017. She performs in the band Prairie Smoke throughout the year and the La Crosse Concert Band in the summer. Music is an integral part of our Sunday services. Come, make music with us! New choir members are always welcome.

Delena Leon, Religious Education Coordinator 

delena@uulacrosse.org
While she is new to the Unitarian Universalist Fellowship Delena realizes she has been a member since birth and is excited to have found the existence of such a place. Working for the public library in town has given her the opportunity to educate, entertain, and serve the families of La Crosse and sees her position here as an extension of that. When she is not pushing books and literacy through fun story times she might be walking her dog Homer and or mixing up something in the kitchen. You might also find her listening to live music and dancing like no one is watching. Delena is looking forward meeting everyone here and serving the community.