Wyalusing Camping Weekend
We're excited to announce that the UU Fellowship of La Crosse is returning for a camping/hiking/bird watching/wildflower weekend at Wyalusing State Park, beginning Friday, May 12 through Sunday, May 14, 2023. We currently have almost 70 people planning to attend! If you registered, you should have received an email with your reservation details. If you didn't receive this email, please let us know!
Check-in will start at 3:00 PM on Friday. We will have signups when you arrive for helping with tasks like cleanup and dishes, so we hope you'll be able to pitch in. 🙂 If you'd like to help with meal preparation for Saturday lunch or Saturday dinner, please contact Jacob Sciammas (jacobsciammas@gmail.com) as soon as possible. We'd love to your help!
Schedule of Events – All activities are optional, except please arrive on time for meals if you signed up for them. Families and friends are welcome to explore the park on their own whenever they wish.
Click Image to Enlarge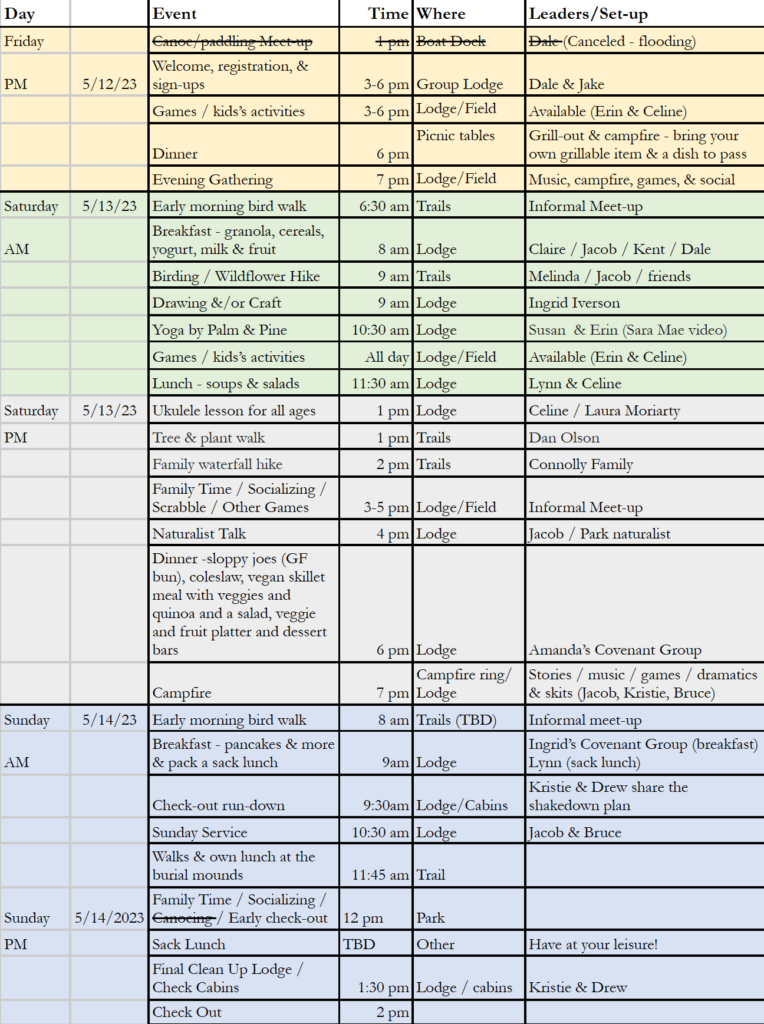 Please contact Jacob Sciammas (jacobsciammas@gmail.com) with any changes to your original registration – meals and accommodations. We need an accurate headcount for the meal prep teams and we need to know about changes in cabin/campsite occupancy.
See the checklist for details on what to bring, but at a minimum – bring your own food for Friday supper and a dish to pass, clothing layers for cool or warm weather, rain poncho or jacket, sturdy footwear for trail walking, & lawn chairs. We'll have water and lemonade to drink; anything else you should bring yourself.
The lodge and the cabins have heat, but not air conditioning, so small fans are nice to bring. We encourage anyone to bring along musical instruments, games, and other activities that might be fun for small groups, meals, & the campfire! There is a large lawn area available for things like softball, badminton, croquet; we will have some of these items, but feel free to bring your own favorite gear along if you would like. Dogs are not allowed in the group camping grounds or lodge unfortunately.
Be aware that the group tent area is about 1.5 miles away from the Lodge, so you'll likely need a car or bicycle to go back and forth. The Lodge has a spacious parking lot. The Homestead camp area is about 0.5 miles from the Lodge. The trails are distributed throughout the park, so you will likely need transport to access some of the trails. Ideally, cooperative shuttles can be arranged for trail hiking, but those will be spontaneous and we're depending upon the participants to work out those arrangements.
You will have to register your vehicle upon arrival to the park if you don't already have a WI State Park Sticker. Donations are appreciated for the event to cover food costs this year and the future Wyalusing reservation fund. The past two years campground and campsite fees have been donated ($900).
We'll also be asking people to bus their own dishes and for people to sign up as a helper to prepare meals, clean up the kitchen, and wash meal dishes. If you don't sign up in advance, be ready to show up and ask the meal leaders if they need any help.
Lodge & dining hall will be accessible 24/7 with hot coffee (regular and decaf), tea, and cocoa. It's a great place for indoor games and pursuits so bring your favorites. We will also have puzzles and other activities to share. Please remember to wash hands and be considerate of others in our group areas.
Check-in is 3 pm on Friday; check-out is 2 pm on Sunday. Helper sign-ups will be available upon arrival. Please allow time to clean up your own sleeping areas, group areas, and/or tent area before checking out. Clean-up helpers will empty garbage cans and do final inspections in cabins, grounds, and the lodge. Volunteer help is appreciated!
Given the recent flooding it appears canoeing will not be possible. We also suggest checking driving conditions prior to departure, there are frequent detours along this route (it's a beautiful drive) for construction and flooding!
Click Images to Enlarge