What to Expect on Sundays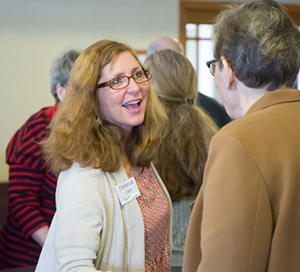 If you are looking for a faith community that helps you grow spiritually and a place where you can create meaningful friendships, you have found it!
Come As You Are
Please feel free to come as you are most comfortable. Some people come each week dressed up while others are very casual. We welcome all seekers.
What are Sunday services like?
On any given Sunday, you may find a service that:
Calls us to act to improve racial justice
Educates us about mental illness or poverty
Inspires us with messages from a variety of spiritual traditions
Encourages us to deepen our connection to all the people of our area
Our minister leads Sunday services once monthly. They often speak to current issues, to our history, and to our basic principles and values.
Sunday services connect us with our values and history and give us new insights. Coming together each week gives us a chance to connect with others in the spirit of openness, creativity, and curiosity. We find we can form and strengthen our values best in conversation with others.
Services generally include hymns, the sharing of joys and concerns, receiving of an offering for the congregation or a group beyond our walls, silent meditation or prayer, special music, an inspiring message, and a time for people to respond. Services vary, so we suggest you visit at least a few times. In addition to our minister, other speakers might include community leaders, guest ministers, or our own members.
For more information about Sunday services, contact Heather McCracken, Congregational Administrator, at admin@uulacrosse.org.
Find out what services are coming up on our Upcoming Services.
After Services
All Sunday services are followed by a social time with coffee, tea and treats. We hope you will join us so we can get to know one another better. The service usually generates lively discussions. Members and friends are happy to meet with you, to share impressions and experiences, and to welcome you to a congregation that encourages your unique spiritual journey.