Get Involved
Local Volunteer Opportunities
Eligible Voter Education Project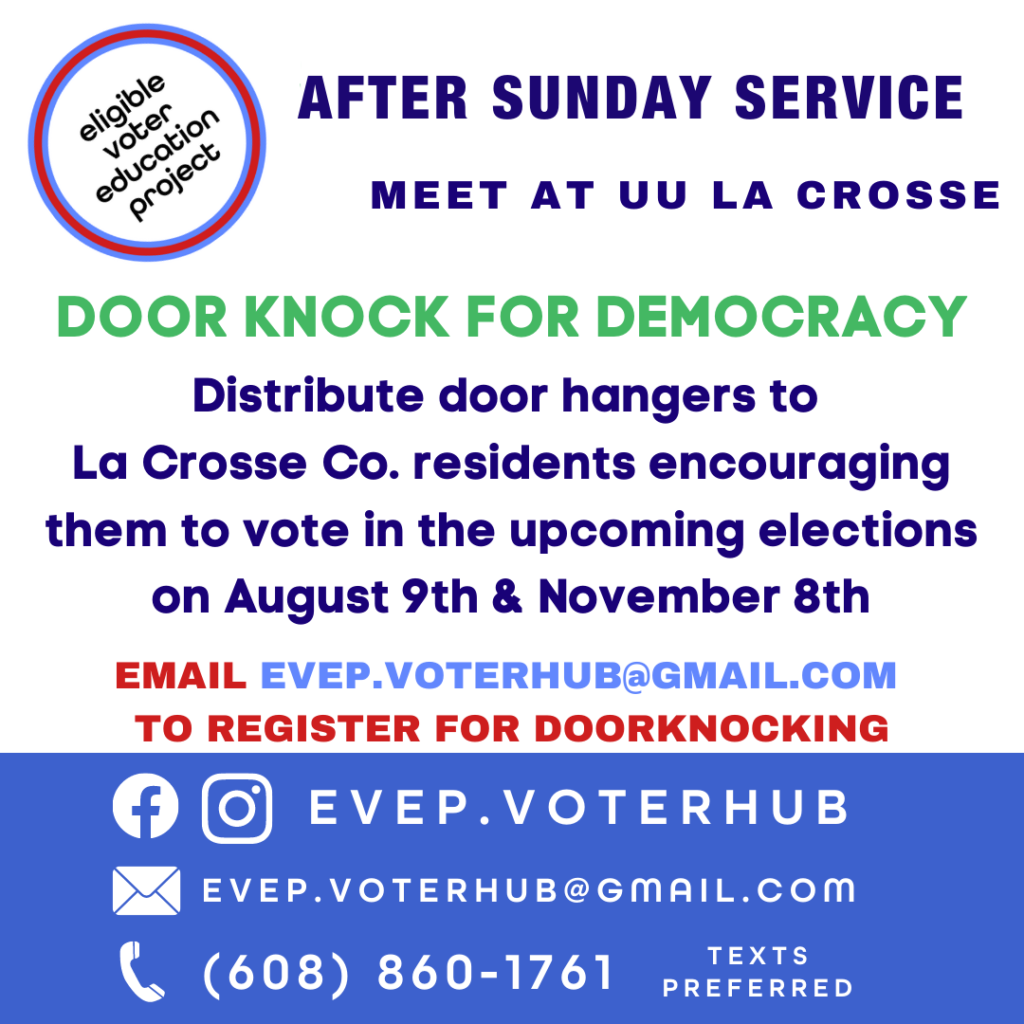 Join EVEP after service on June 12th for some community action! We will be doorknocking to encourage La Crosse Co. residents to register to vote for the upcoming elections. Email Giorgia at evep.voterhub@gmail.com to register or show up at the conference room for instructions.
---
Juneteenth Celebration
The UU Social and Environmental Justice team and the Eligible Voter Education Project (EVEP) are having tables at the upcoming Juneteenth celebration at Riverside park on Saturday June 18th! If you'd like to table for UU, contact David Boen (davidlboen123@gmail.com). If you'd like to help with the EVEP table, contact Giorgia Brennan (evep.voterhub@gmail.com).
If you are not volunteering for the UU or EVEP table but would like to consider volunteering for the Juneteenth celebration directly, below is the sign-up information along with a Sign-up Genius link. Please take a close look as there are many opportunities such as working with kids, helping with the trolley tour, set-up and clean-up, etc. Find something that suits your interest and time schedule.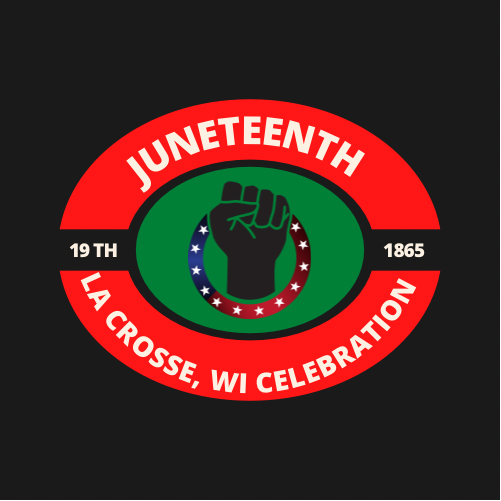 To find an area and time where you can volunteer, please go to bit.ly/VolunteerJuneteenth Sign up for as many slots as you like. By providing your contact information we will confirm your responses and send a reminder a few days in advance of the event.
This will be a wonderful celebration as we commemorate the ending of slavery in the United States and look ahead to the vibrant community we are building together in La Crosse!
We are planning a busy and fun-filled day with a variety of area food venders, kid's games, bounce houses, snow cones, entertainment on stage and much more! Sustainability is being incorporated into the day as we will host a bike corral, provide sustainable food packaging and water options as well as recycling.
When you arrive, head for the Welcome Table at the north end of the park and check in with a Juneteenth staff member.
Please contact Jane Powell at 608.784.3192 or williamjanepowe@centurytel.net if you have questions.
Thank you again and we look forward to seeing you in the park!
Juneteenth Volunteer Committee
---
Kane Street Gardens
Our ongoing involvement with Kane Street Gardens includes installing a gravity irrigation system, building handicap accessible raised bed gardens, and making plant identification signs. Many of us help with daily work at the gardens.
---
Monthly Special Collections
Each month our Social & Environmental Justice Team selects a community organization as our Special Collection recipient. Join us every month in donating to community organizations that manifest our values!
Click Here to Learn About This Month's Special Collection
---
Join Our Social & Environmental Justice Team!
UU La Crosse's team aims to impact the world by acting locally. We have and will continue to take part through 2022 in supporting the Kane Street Garden as part of our work for food sustainability and justice. We have, and will continue through 2022, working to connect up with our national organization, the Unitarian Universalist Association, to take part in "UU the Vote".
Learn about injustice and its roots
Fight racism, sexism, homophobia, and xenophobia
Support the building of a sustainable world
Raise money for local justice-focused causes
Take part in congregational social justice projects in the community
For more information contact Team Chair David Boen: davidlboen123@gmail.com
---
UU Social & Environmental Justice in the News