Announcements
📢 Board Announcement 
Dear Members & Friends,
Over the course of our monthly meetings, your Board of Trustees has been deepening our conversations around vision and strategy for this moment in the life of UU La Crosse. As part of our 2023 budget decisions, we've reduced our professional ministry from ½ to ¼ time, starting with the ministry contract year on July 1, 2023. This change reflects what is possible within the financial resources that we have right now. Rev. Bruce has been providing resources and questions to guide our thinking of how we need to plan for this change. It's not as simple as cutting in half all of the things that our minister does right now. Instead, the key to success in this transition is to think about, as Rev. Bruce said to us: Where are we going and who do we want with us? One theme quickly emerged from our discussion: as a Board, our hope is that when the year ends, we will have aligned our board, teams, ministry, staff, and systems in such a way that every member and friend feels that they are a part of our UU La Crosse team and that they are supported in their contributions to the degree that they feel a sense of fulfillment, joy, and belonging. Our work on teams and as volunteers and our participation on Sundays doesn't just result in the kind of spiritual community we seek – our time engaged together in the work is itself the spiritual community and experience that we seek. In the next months, we'll be asking our Teams and staff to develop their annual objectives to support the five goals in our multi-year strategic plan. This year, we'll ask them to make at least one of those goals also oriented to how that team will contribute to this vision in which our members and friends find joy, belonging, and fulfillment in their participation at UU La Crosse.
So many great things are afoot at UU La Crosse. We have two new covenant groups forming, planning underway for a May fundraising event, training about a campaign to remind people to consider their UU family in their estate planning, a multi-generational mask making project starting this week, and we'll be welcoming a Community Minister who will begin affiliating with our congregation in March. Our trivia team is back in the game every Monday. Our choir and ensembles inspire and move us every week. UUers are embracing winter (or welcoming spring) by hiking together. There will be a Team Fair on Sunday April 23rd in which everyone can learn about team and volunteer work. Our community continues to center around our Sunday worship with average attendance now up to 70 people per week between our online and in person participation. Whatever your interests, you are welcome here and you are needed here!
---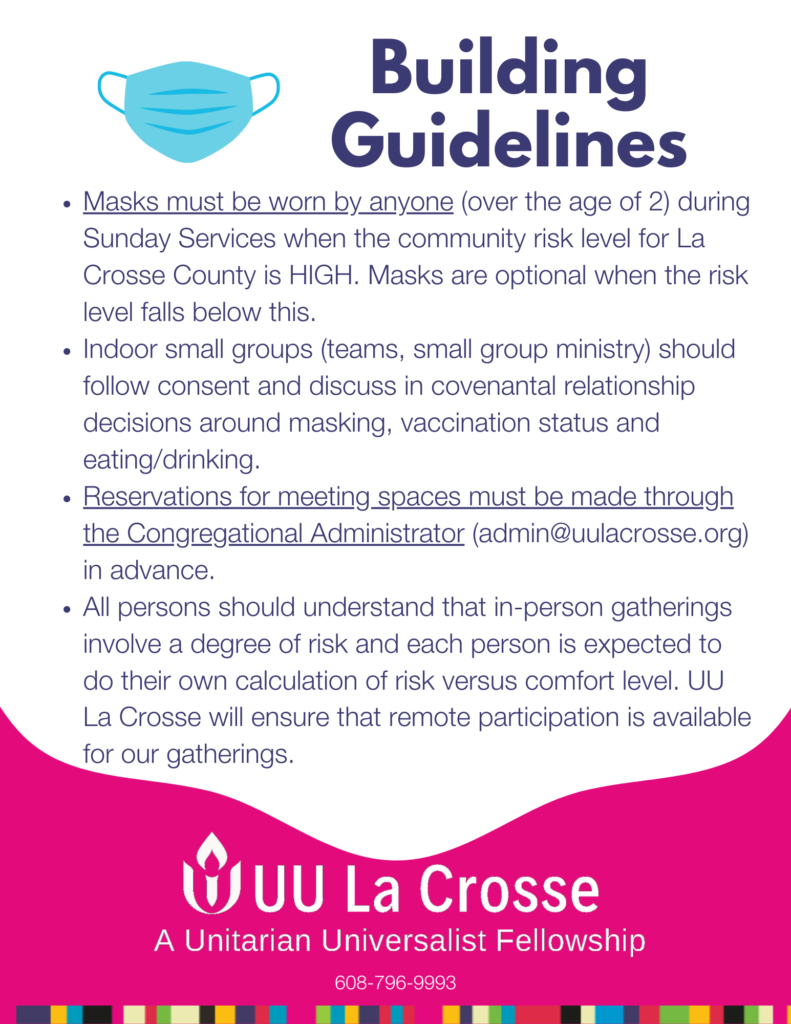 Submitting News and Room Reservation Requests
To submit news, announcements, events, and calls for volunteers please fill out the form at www.uulacrosse.org/submitnews
To request a room reservation or to add something to the Fellowship calendar, email admin@uulacrosse.org.