Announcements
Board Announcement (January 2022)
Dear UU La Crosse Members and Friends,
The Board has been reviewing the feedback from your conversations with Stewards during our recent pledge drive. A clear theme has been a desire to return to the building on Sundays and to gather in person more frequently. In light of this, we have made some changes to our safety policies.
We will be opening the building for Sunday Service attendance starting on Sunday, January 30th. We are fully committed to keeping the Zoom service as a participatory option for those who choose it. In fact, when you attend service in the building, you can expect that you may still see the Facilitator or Speaker online and there will still be pre-recorded music. Here's what you need to know about what things will look like for the in-building attendees on January 30th:
You must wear a mask fully over your nose and mouth. If you forget your mask, one will be given to you.
We request that anyone (except for those under 5 who are not yet eligible) be fully vaccinated and boostered in keeping with our Unitarian Universalist values and our desire to protect the staff and volunteers who are helping with the service.
Expect to see children in the service until we can reliably staff our nursery and RE program. Our RE staff and team are working to re-start our RE and nursery program with an appropriate balance of safety and human face-to-face interaction. In the meantime, children and youth are welcome to join their adults for the entirety of the service. Please feel free to bring along quiet activities to help the young ones (your own or someone else's) with busy hands, and know that wiggles and sounds are part of the human experience and can be an occasion of joy for all present!
We ask that you do not have food or beverages in the building.
If the Facilitator or Speaker choose to do their work from the building rather than remote, they are the exception to the mask/beverage rule in order to be able to do their job with ease.
Our music staff and volunteers are free to make decisions about how to offer music. As members and friends, you can expect that on any given day, the music may be pre-recorded and shown on the screen, or may be only instrumental, or may come from one or more musicians in the building.
We ask that our members and visitors not sing at this time. Humming, swaying, finger snapping, clapping, dancing, or using instrumental shakers (sanitized after use) is encouraged.
After service socializing (no food or coffee at this time) is encouraged. Please observe your own and others' comfort zones. For now, expect that zoom attendees will have a separate social hour from in-building attendees (screens, audio, camera will be turned off).
Among our pandemic losses are the structures we had for serving one another through hospitality in greeting one another, setting out hymnals, caring for families by volunteering in the nursery or RE program, cleaning up after service and supporting other aspects of our Sunday Service. Over the next weeks, please give thought to how you might wish to formally volunteer to rebuild our gatherings. Until we have rebuilt our formal volunteer work pool, let's come together to build what we need: stick around to straighten out chairs and pull down the shades, find a mop to clean up the snow puddles by the chairs, lend a hand to the family with the small child or simply smile and welcome them, and be an informal greeter to all you encounter.
While this is not the moment we have all been waiting for – a joyful re-entry to the fullness of the routines and interactions that bind us in our Sunday Services – it is a step toward the wholeness that we long to experience. Please be gentle with yourself and your covenanted community as you grieve one more not-yet, as you honor each individual's choices between virtual and in-person, and as you thrill to the possibility of gathering once more.
While I have your eyes, let me take this moment to remind you to look for your weekly e-news – so many good opportunities for gathering outdoors, indoors, online, in small groups, for projects, and for socializing. Among the many, many events and programs: look for info about the Spring Communication Chain forming this month which will help us deepen our connections with one another. We also hope you'll join our youth for the January 15th Myrick Park sledding or the February 19th Poage Park ice skating. And, a New Year is a fine time to consider the benefits of joining one of our teams – there's nothing like getting to know other UUs by working side to side on important projects.
In Fellowship,
Marilyn Huckenpoehler
UU La Crosse Board President
---
NEW Spring Communication Chain

The Member Services Team is rolling out a new method of connecting with the UU La Crosse community: a Communication Chain! How does it work? It starts with you signing up to be a part of the "Spring Cohort" by Monday, January 25th. After that, we'll send you the completed list of everyone who signed up by Tuesday, February 1st. Once you have the list, find your name and then look at the name below yours: that's your "Communication Buddy" for the next three months! If your name is at the bottom of the list, your Communication Buddy will be the name at the top of the list.
Okay, so what is a Communication Buddy? What do you do next? Pick up the phone and give your Buddy a call. We will provide some questions that might help you get started, so don't worry if you're not sure what to say. It will be completely up to the two of you to decide how often you want to reach out and how you'd like to communicate (phone calls, texting, meeting in person, etc.), but the idea is that this will help everyone involved stay more up to date on what is happening in our community, while also fostering new connections!
Ready to join our Communication Chain for the Spring?
Email Heather (admin@uulacrosse.org) with any questions.
---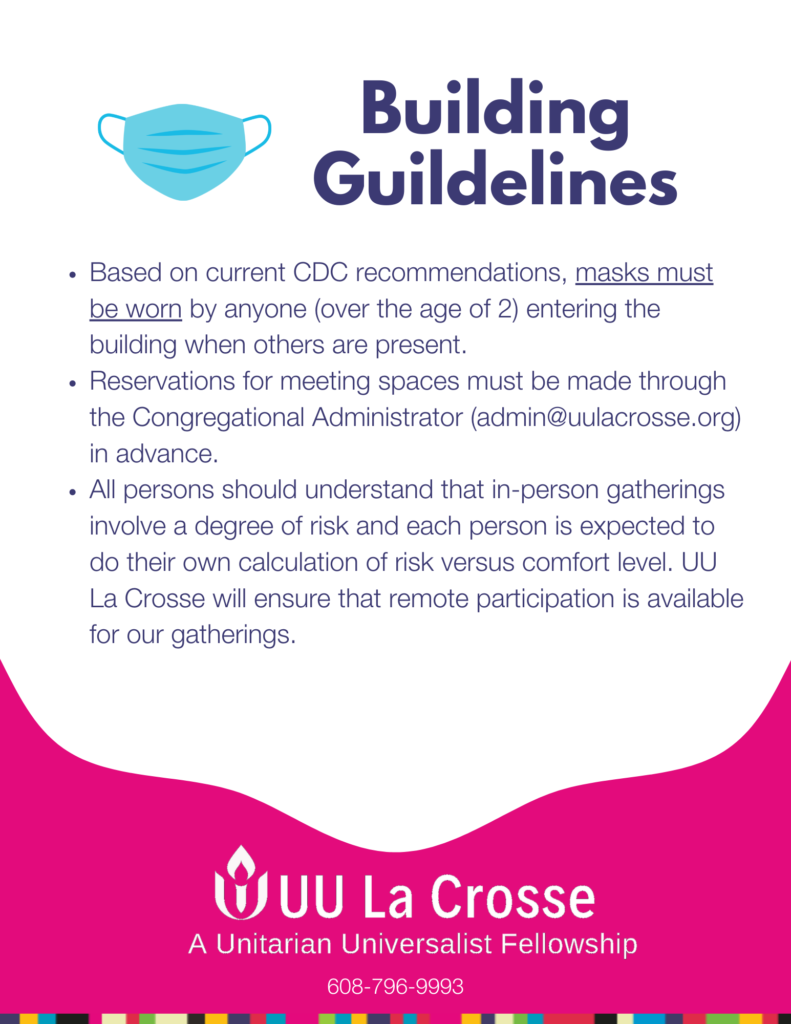 Submitting News and Room Reservation Requests
To submit news, announcements, events, and calls for volunteers please fill out the form at www.uulacrosse.org/submitnews
To request a room reservation or to add something to the Fellowship calendar, please use the form at www.uulacrosse.org/reserve