Volunteer Opportunities
If you're looking to get more involved within our UU La Crosse community or our Greater La Crosse area, email admin@uulacrosse.org to talk to our Congregational Administrator about many wonderful volunteer opportunities!
Current Volunteer Opportunities
Fort McCoy Volunteers & Donation Needs
The Social & Environmental Justice team wants everyone to know that, in addition to donating to this month's Special Collection, there are three more ways that you can volunteer and donate to support our Afghan guests. Click on any of the underlined links to view resources and information about how you can help.
Visit ugetconnected.org to access resources and information about volunteering and donating.
Looking for shopping lists of items that are needed at Fort McCoy? The Catholic Charities website has three registries (Amazon, Target, and Walmart) for you to choose from.
To support the newly-established classrooms at Fort McCoy, a group of community partners launched the "Operation Allies Welcome School Supply Drive." Those wishing to contribute may purchase items from the campaign's Amazon wish list, accessible at www.gruw.org/schoolsupplies.
---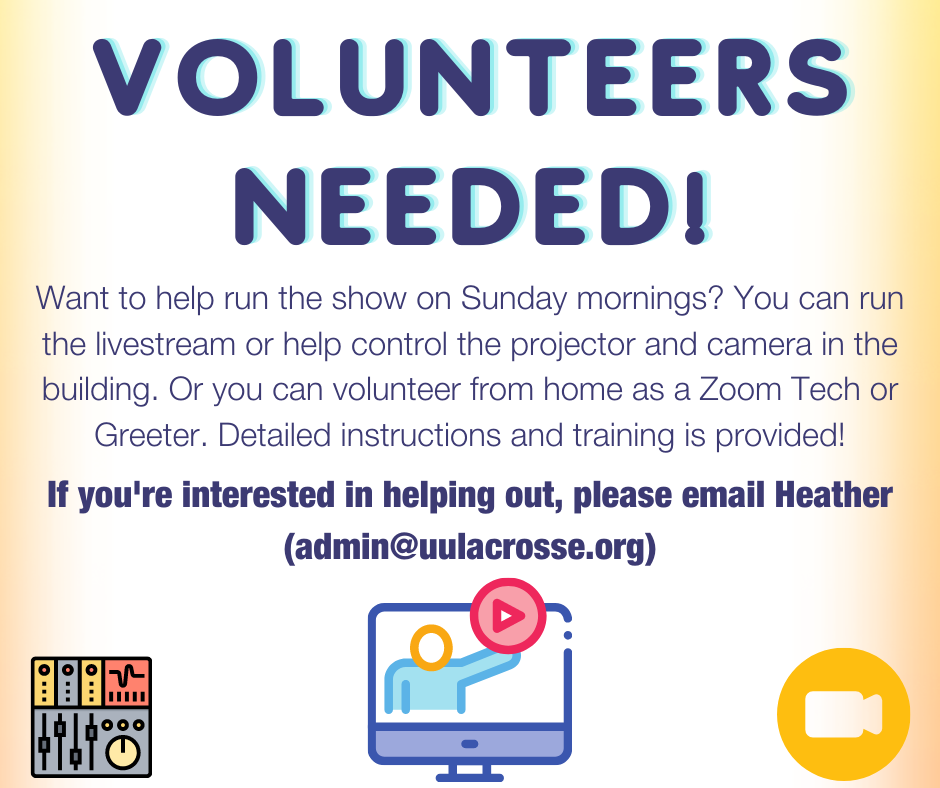 Sunday Tech Volunteers
Please consider volunteering on Sunday mornings. You can volunteer in the building by running the livestream, or by helping with small but crucial tasks like controlling the projector and camera. You can also volunteer from homeas a Zoom Tech or Greeter. This is a fun way to provide a much needed helping hand on Sunday mornings, so please consider giving it a try!
You don't need to have any experience with the technology to learn how to run the show. Heather will meet with you for training, and there will always be detailed instructions provided to assist you. The more people who are trained to use the technology, the better!
If you'd like to help out, please email Heather at admin@uulacrosse.org.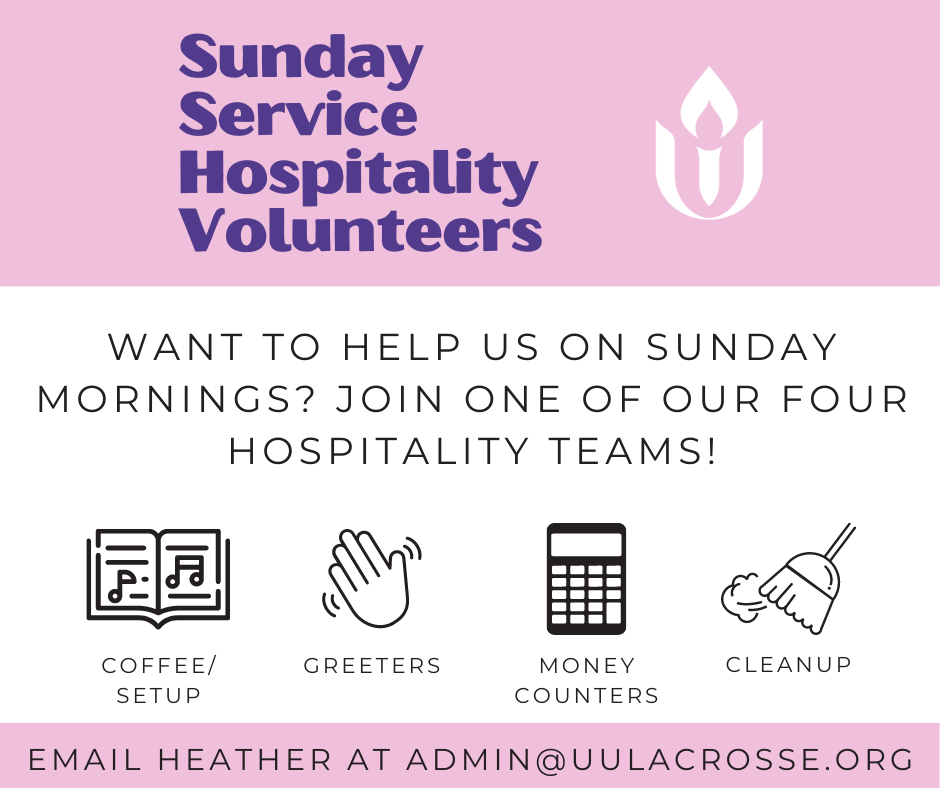 Hospitality Volunteers
When in-person Sunday Services resume we will need all the help we can get! With that in mind, we are currently seeking volunteers to join one of four Hospitality Volunteer Teams: Coffee/Setup, Greeters, Money Counters, or Cleanup. You will only be responsible for the tasks assigned to the Team you choose, so you can pick whichever Team is most appealing to you. Each Team will have a Leader to help coordinate and train volunteers. Heather will work with you on scheduling, so you won't have to volunteer every Sunday–unless you want to! Want more details about what tasks each Team is responsible for? Want to volunteer? Email Heather at admin@uulacrosse.org to sign up and with any questions you may have. Thank you!
---
Kane Street Gardens
Our ongoing involvement with Kane Street Gardens includes installing a gravity irrigation system, building handicap accessible raised bed gardens, and making plant identification signs. Many of us help with daily work at the gardens.