Online RE Programs & Activities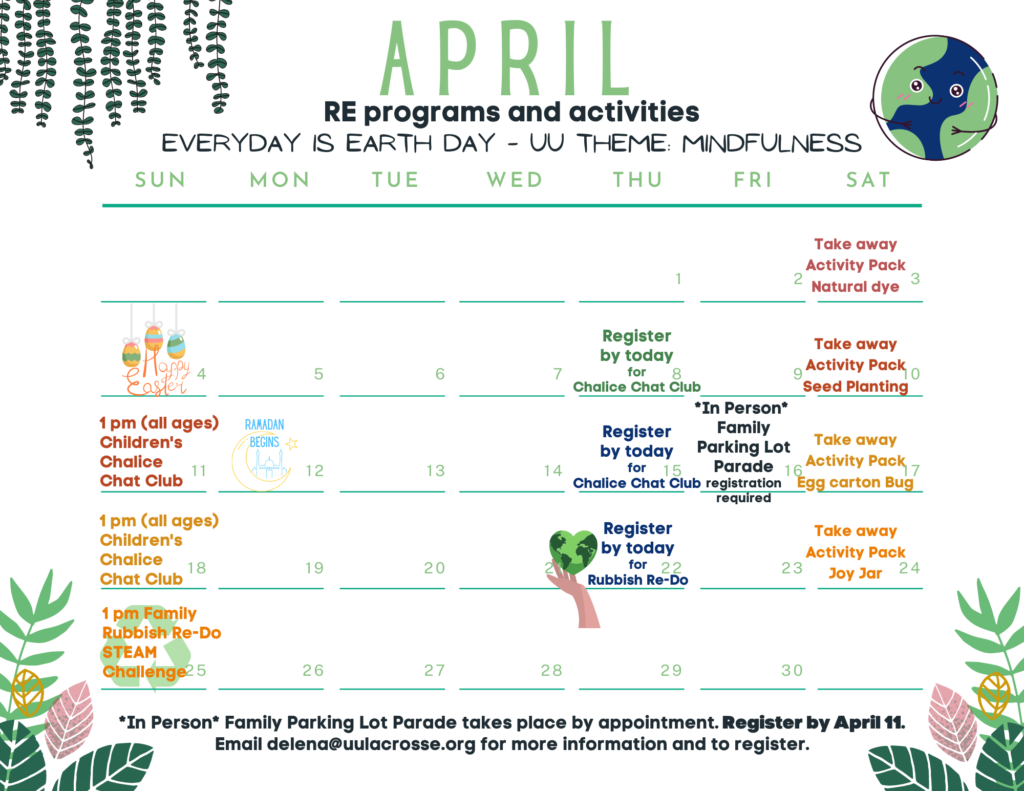 This April in RE we are trying some new things and we hope to connect with your families in some way. Please feel free to email me delena@uulacrosse.org with any questions or concerns and to learn more about the RE team. 
Parking Lot Parade  Friday, April 16, at scheduled time (between 4 – 5 pm) 
Families with children ages 0-17
In-Person, socially distanced walk, bike or "drive thru"
Located at the UU La Crosse parking lot 401 West Ave. S. La Crosse
Register by emailing delena@uulacrosse.org by Sunday, April 11
Would you like to meet our minister, the DRE and other members of the fellowship in a short, scheduled and socially distanced Parking Lot Parade? Register to set up a time to walk, bike, or drive through our series of short surprise stops, with surprise takeaways. Get to know Rev. Leslie, Delena and see others while interacting safely, masks required and appreciated. The parade will take about five minutes to drive through and participants should arrive as close to their scheduled time as possible. There will be no parking available in the parking lot during the parade so please plan to walk, bike or drive through the parade. More information will be provided at registration. 
Activity Packs
A new activity pack is available every week, while supplies last, at the UU Fellowship. They are located near the back door in a marked blue bin. 
Week 1 (4/3 – 4/10) Natural Dye
Week 2 (4/10 – 4/17) Seed Planting
Week 3 (4/17 – 4/24) Egg Carton Bugs
Week 4 (4/24 – 5/1) Joy Jar
Online Programs
Because these programs are online it is a great time to let your child know that they may invite a friend virtually. Please remember to register, and have friends register, with me, even if just visiting at delena@uulacrosse.org
Children's Chalice Chat Club  Sunday, April 11 & 18, 1 pm, Zoom
Children of all ages welcome
Register for one or several by the Thursday before the program
Kids come, chat, catch up and talk about things important to them. There will be adult facilitators to help guide the conversation but it will mostly be a free space for kids. 
Rubbish Re-Do – Family STEAM Challenge  Sunday, April 25, 1:00 pm, Zoom
For families with children ages 0-17 years old
Register by April 22
Let's turn our trash into a treasure! What can you make or do with the things that get sent to the garbage or recycle bin? Think big, think small, think all things science, technology, engineering, art, and math. Build a bird feeder, make a sculpture, do an experiment, design a game, knit with plastic bags, paint with natural dye, you can do anything! Spend this month celebrating Earth Day and our values by participating in this challenge and reducing, reusing, and recycling in a different way. Projects should be completed and ready to show the day of the program.
Happy spring!
Delena
---
Religious Education that's different? Not indoctrination…
The education director and teachers will help find the group that fits each person best.
Nursery care, free play and activities are offered for ages 0-preschool.
2 Breakout groups for grades K-2 and 3-5 that use Unitarian Universalist curriculum to engage elementary students.
YOUTH: Middle and high school students meet in breakout sessions depending on current attendance.
Since all students are unique, please share your concerns and ideas about which group best fits your child with the RE Coordinator. We work together to shape the best experience for each child. Attending the whole service is always an option for any child or youth.
For more information, contact our RE Coordinator Delena Leon at delena@uulacrosse.org.
Submit photos, videos, comments, or ideas here →  uulacrosse.org/REuploads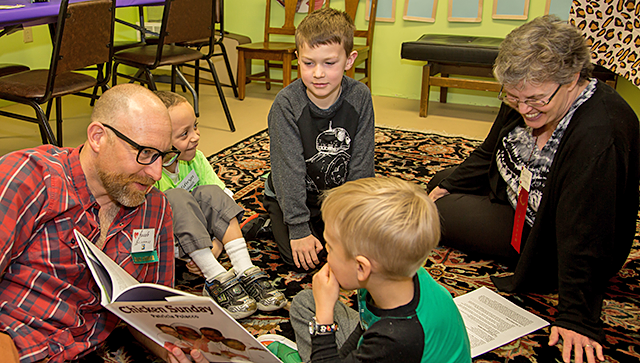 Sunday morning breakout groups for children and youth offer fun, interactive and caring experiences to explore our unique religious tradition.