Online RE Programs & Activities
Youth RE Updates & Announcements
UU La Crosse Youth Blessing

The RE Team is currently working on creating and mailing charms to serve as a special blessing for our youth as they begin a new school year. During our September 12th Sunday Service, Rev. Leslie will offer a special blessing connected to these charms. Each charm carries wishes and blessings from our eldership to help our youngsters feel supported as they face their current issues and anxieties. If your child(ren) would like a charm, we ask that you please submit a completed form by 9/5/21 so that we can get them mailed in time. Click here to access form.
🧸 Volunteer Opportunities 📚
The youth religious education committee invites new team members, including those with no small kids at home. The team meets on Zoom the first Wednesday of each month at 7 pm. We also welcome volunteers to co-host live events on Zoom Sunday afternoons. Join us at a time of new possibilities and several new formats!
Interested in volunteering? Please contact Heather at admin@uulacrosse.org.
---
Religious Education that's different? Not indoctrination…
The education director and teachers will help find the group that fits each person best.
Nursery care, free play and activities are offered for ages 0-preschool.
2 Breakout groups for grades K-2 and 3-5 that use Unitarian Universalist curriculum to engage elementary students.
YOUTH: Middle and high school students meet in breakout sessions depending on current attendance.
Since all students are unique, please share your concerns and ideas about which group best fits your child with the RE Coordinator. We work together to shape the best experience for each child. Attending the whole service is always an option for any child or youth.
Submit photos, videos, comments, or ideas here → uulacrosse.org/REuploads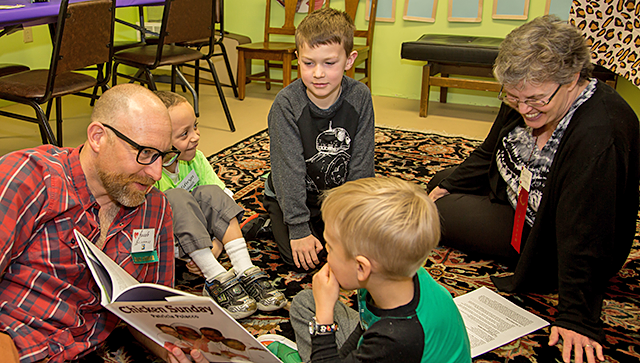 Sunday morning breakout groups for children and youth offer fun, interactive and caring experiences to explore our unique religious tradition.