Announcements
Our Fellowship and Spirits Still Shine Online – Connect With Us!
No Meetings or Sunday Services to Take Place On-Site – Visit www.uulacrosse.org/zoom for information on getting set up to attend services and events online!
Click here >>> to join the "UU La Crosse Members & Friends" private Facebook Group to stay up to date with news and events.
RE News
RE Activity Packs will be available this summer and will have age appropriate crafts and activities to help keep you connected to our UU principles and values. There will be a blue bin outside of the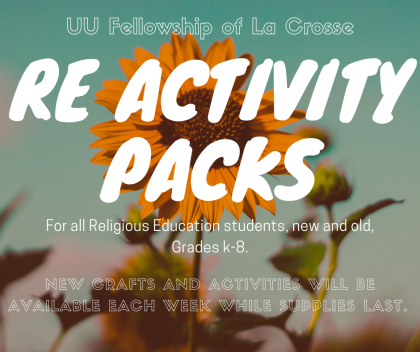 UU building, by the parking lot door, with individually packaged bags labeled by grade. Each week new bags will be provided, while supplies last. Feel free to stop by anytime throughout the week to pick them up. We hope you find these packs engaging and fun. More chances for fun and engagement are coming soon, including more videos from Jen Miller! Please feel free to reach out to our Director of RE, Delena, with questions. We would also love to see pictures of your child and family working on any of the activities so feel free to email those as well, we may share via social media.
And check your eNews for videos from our Connections Coordinator Jen Miller. Watch her last video about "Kindness Rocks" and send in photos of your own creations!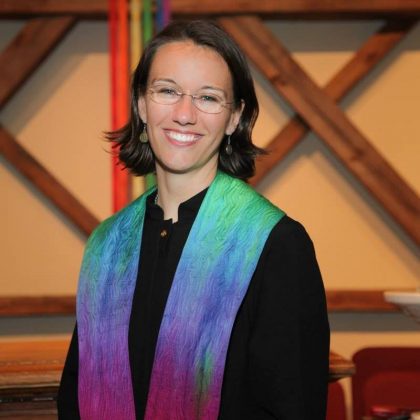 Introducing Rev. Leslie Mills!
The Ministry Search Team and Board of Directors are pleased to announce that we have offered our part-time, one-year ministry contract to the Rev. Leslie Mills. She's accepted our offer and is scheduled to start work on Wednesday, July 1st.
Click here to learn more about Rev. Leslie in her own words.
You can reach Rev. Mills by email at minister@uulacrosse.org or by phone at 651-300-4814
July Special Collection
The United Fund for the Arts and Humanities is a 501(c)(3) nonprofit umbrella fundraising organization supporting and benefiting twelve of the La Crosse area's Arts and Humanities organizations including the Pump House, the Great River Folk Fest, and many others.
Make checks out to UFAH, or choose Special Collection when giving online.   See more info on their website: https://www.ufah.org/
Setup Bill Pay for Pledge Payments or Pay Online
Do you sometimes forget to make your pledge payment each month?  Have you ever considered setting it up as an automated payment through your bank or credit union? It's easy for you, easy for UU. If you have online access to your account, you can set it up in 'Bill Pay' as a recurring payment, and the check will be automatically sent to the UU office each month.
If you'd like to pay online or set up a recurring payment, or even make one-time donations: www.uulacrosse.org/waystogive
Caregiver is Here to Help
The caregiver can offer support to those in need by sending a card, making an announcement during Joys and Concerns, and/or publicizing your status and needs via the weekly emails. Let us know the level of care you desire. You may reach the caregiver at caregiver@uulacrosse.org or leave a message attn: caregiver at (608) 796-9993.
Stay Updated with La Crosse's 'Waking Up White' Regional Learning Collaborative & White Privilege Symposium
Read the book "Waking Up White" by Debby Irving, join in on small group community conversations and attend guest speaker events leading up to the 2020 White Privilege Symposium in La Crosse.
Find details on their website: www.laxwakingupwhite.com

Thanks to WKBT and WXOW for covering the ongoing projects in the La Crosse area fighting against systemic racism, involving UU La Crosse, SURJ and other area groups as a part of the2020 Waking Up White Regional Community Learning Collaborative. Catch the articles below:
Stay Connected and Listen to Past Services
Stay up to date with announcements, upcoming events, and UU news on our Facebook page (UU Fellowship of La Crosse), in our Facebook Group (Unitarian Universalist Fellowship of La Crosse), and on our website — uulacrosse.org
Past services are available for listening online via our SoundCloud page – catch up on Sunday Services from UU La Crosse!

Submitting News & Room Reservations
To submit news, announcements, events, and calls for volunteers please fill out the form at www.uulacrosse.org/submitnews
To request a room reservation or to add something to the Fellowship calendar, please use the form at www.uulacrosse.org/reserve