Announcements
UU La Crosse Communications Team Needs You!
The Communications Team works to get messages to the Fellowship Members & Friends and to the larger community. They write press releases and design materials to promote events. Their current project involves working on graphic designs for a print-on-demand site to offer UU La Crosse merchandise. They would love to have some new people share their work and are looking for people who are either experienced with or willing to learn Adobe Illustrator or Canva or who enjoy writing. Email board@uulacrosse.org for more information.
RE News
Hello RE families and friends, The Youth RE Team and I are excited to announce some very exciting online programming coming this Fall and Winter. Each Sunday we will have a special program presented through Zoom and targeted at a different age group. These programs will vary each month and the targeted age is only a suggestion, all children are welcome to attend any program their family thinks is appropriate. These programs will all require registration, which can be done by emailing me at delena@uulacrosse.org. Some programs may require supplies, if so, these supplies will be provided to you. Details and Zoom information will be given upon registration. Please feel comfortable to send me any questions or concerns you may have. Are you interested in volunteering to facilitate an online RE program? Email me at delena@uulacrosse.org to get more information. I look forward to seeing you all in the coming months.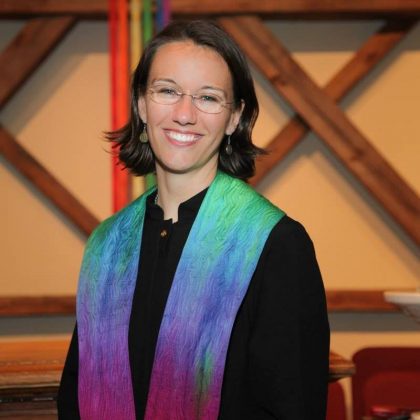 Uncapped Conversations Starting Tuesday, September 29th
Uncapped is an open covenant group, focused on having a relaxed space where we enjoy each other's company and talk about the things closest to our hearts. All are welcome to log in for an open and gently guided monthly discussion around our theme topic. Readings and ritual center us in the topic and guided questions help us go deeper into the theme. The guided questions are posted on the UU La Crosse Members & Friends group Facebook page a few days before the session. RSVP to Rev. Leslie Mills at minister@uulacrosse.org to save a spot!
We are offering two time slots to gauge when people are available. If both times get good attendance, we will keep both, otherwise we might shift to only one time. Please register to indicate your interest and to be kept up to date on any changes in the plans.
Join Rev. Leslie on Tuesday, September 29th for an Uncapped Conversation about "worth and dignity." You can join us at noon or at 6pm (or both, if you'd like to have the conversation twice!) Contact minister@uulacrosse.org to register.
Book Group Seeks Leader
The UU Book Group is seeking a leader/organizer. Duties include keeping members informed about meeting dates and setting up Zoom meetings. The group can be organized in many different ways. To discuss how the group might operate, contact me, Jan Jolly, at jollyjanis22@gmail.com
 
September Special Collection
The September special collection is the Solar on La Crosse Schools (SOLS). SOLS educates, advocates, and fundraisers to make solar energy a reality sooner for the School District of La Crosse.
SOLS was started by several La Crosse community members passionate about advancing clean energy and enriching our schools. Switching to solar energy will help cut air pollution and greenhouse gas emissions, reduce energy costs, and provide new sustainability learning resources.
Learn more about SOLS and to contribute to this special collection visit our online giving page at uulacrosse.org/waystogive
Setup Bill Pay for Pledge Payments or Pay Online
Do you sometimes forget to make your pledge payment each month?  Have you ever considered setting it up as an automated payment through your bank or credit union? It's easy for you, easy for UU. If you have online access to your account, you can set it up in 'Bill Pay' as a recurring payment, and the check will be automatically sent to the UU office each month.
If you'd like to pay online or set up a recurring payment, or even make one-time donations: www.uulacrosse.org/waystogive
Caregiver is Here to Help
The caregiver can offer support to those in need by sending a card, making an announcement during Joys and Concerns, and/or publicizing your status and needs via the weekly emails. Let us know the level of care you desire. You may reach the caregiver at caregiver@uulacrosse.org or leave a message attn: caregiver at (608) 796-9993.
Stay Updated with La Crosse's 'Waking Up White' Regional Learning Collaborative & White Privilege Symposium
Read the book "Waking Up White" by Debby Irving, join in on small group community conversations and attend guest speaker events leading up to the 2021 White Privilege Symposium in La Crosse.
Find details on their website: htpps://www.laxwakingupwhite.com

Thanks to WKBT and WXOW for covering the ongoing projects in the La Crosse area fighting against systemic racism, involving UU La Crosse, SURJ and other area groups as a part of the 2020 Waking Up White Regional Community Learning Collaborative. Catch the articles below:
Stay Connected and Listen to Past Services
Stay up to date with announcements, upcoming events, and UU news on our Facebook page (UU Fellowship of La Crosse), in our Facebook Group (Unitarian Universalist Fellowship of La Crosse), and on our website — uulacrosse.org
Past services are available for listening online via our SoundCloud page – catch up on Sunday Services from UU La Crosse!

Submitting News & Room Reservations
To submit news, announcements, events, and calls for volunteers please fill out the form at www.uulacrosse.org/submitnews
To request a room reservation or to add something to the Fellowship calendar, please use the form at www.uulacrosse.org/reserve