Announcements
Board Announcement & Reopening Update
Dear UU La Crosse Members and Friends,
Your Board of Trustees is in the midst of three special meetings designed to craft new guidelines for decisions about in-person gathering. Last week, we met to focus specifically on guidelines for building presence during Sunday Services, particularly with an emphasis on our music program. I'm grateful for the input of Rita Koch Thometz, our Music Director, and Eric Kraemer, Sunday Service & Music Team Member/Choir Member during this session. We've developed a document outlining guidelines for our music program and for in-building attendance at Sunday Services. You can find the document by clicking here. This guidance does not change previous guidelines around in-person gatherings for small groups and teams or outdoor gatherings. We intend to be proactive in recognizing that the science around the pandemic will continue to emerge and in realizing that the pandemic may ebb and flow over the course of several cycles. There are links in the document to help you apply our guidelines on your own, or you can stay tuned to our newsletter and website, which will provide guidance on when and how you might attend services in our building. Key takeaways are this: we know that we will be wearing masks for some time in the building, that we won't have congregational singing in the building for some time (we'll be limited to soloists or ensembles for awhile), and we won't have food or drink in the near future. You'll also need to plan on registering to attend in person when it is safe to do so. We'll always defer to staff and volunteers to judge when they can scale up to provide any particular feature allowed with each level of risk (planning for each stage requires time and back-up planning for changes in risk status). And, of course, we'll always have a remote attendance option available through Zoom.
The next special board meeting will focus strictly on our nursery, RE program, and how we minister to families in our congregation during the pandemic. We'll meet via zoom on Tuesday, August 31 from 4-6 pm. We welcome your attendance at this discussion – email board@uulacrosse.org for the link.
While the Delta virus has paused our plans to return to in-person services in September, there are so many promising things building in our congregation: Our Congregational Administrator has engaged a robust bench of volunteers to assist with our technology, greeting, and other activities. Our Board has a new model for supervising our staff which will allow for a slower, more proactive, and more consistent check-in each month to support staff and their work. We are in the process of interviewing and hiring candidates for positions as a DRE, pianist, and nursery worker.
We've had a change in our board. Nicole Ravens, who has served on the board for over five years, most recently as Vice President, has stepped down to focus on other elements in her life. Please feel free to reach out to her to share your appreciation for her service. In keeping with our by-laws, the board has elected Donna Bauer to fill out the half of her term that remains until our May 2022 election, when the congregation will vote on a one-year Vice President position. I'm grateful for Donna's longstanding investment in our congregation and am thrilled to have her move into this role.
In Fellowship,
Marilyn Huckenpoehler
UU La Crosse Board of Trustees President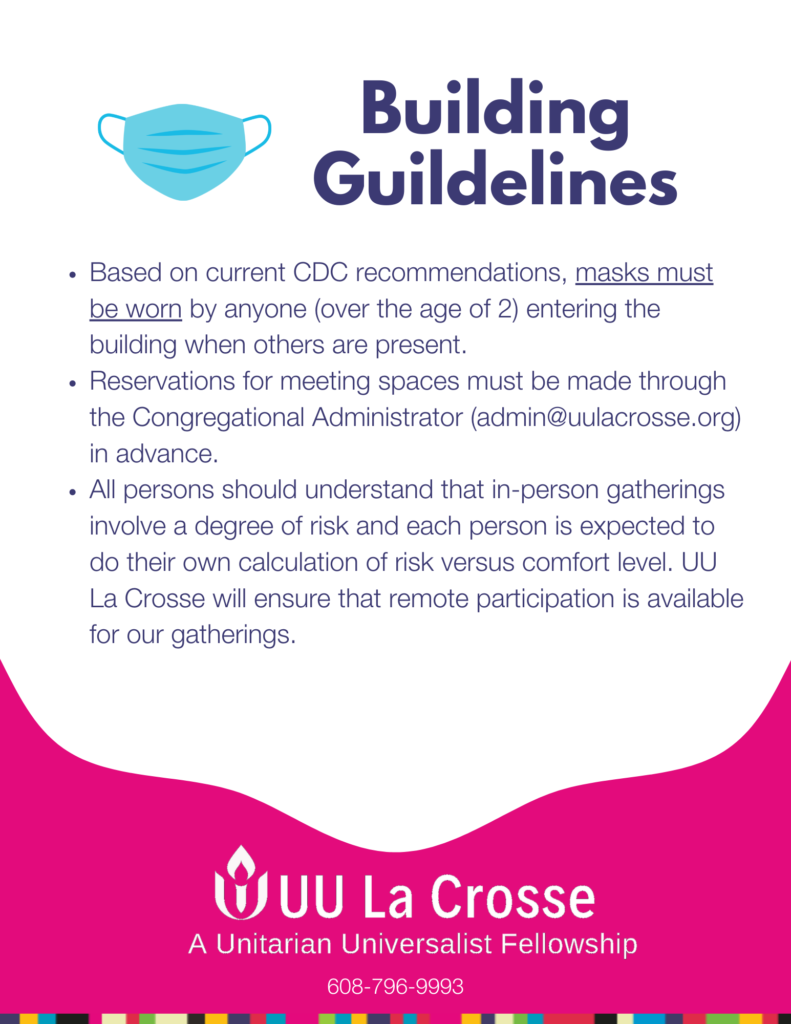 Submitting News and Room Reservation Requests
To submit news, announcements, events, and calls for volunteers please fill out the form at www.uulacrosse.org/submitnews
To request a room reservation or to add something to the Fellowship calendar, please use the form at www.uulacrosse.org/reserve