Announcements
Sunday Services to Continue through Summer
Summer
 is a great time to stay connected to your UU family!
Bring friends, invite neighbors, remain inspired
Services will continue to be at 10 AM (NOT 9 AM like last

summer

)
Special RE experiences are planned (think

Summer

Camp!)
Summer
 will culminate with our service at the 
Folk Fest at Riverside Park
, 
August 25th. 
Look to the e-bulletin for further service schedule details/content. 
* Note: NO SUNDAY SERVICES:
        July 7       (Fourth of July weekend)   NO SERVICE
        September 1 (Labor Day weekend)   NO SERVICE
Visioning Team Finalizing Data Collection
The Visioning team is nearly finished with collecting data from our members and friends. This includes 12 listening sessions as well as email responses. If you have not been able to attend a listening session and want your input included please email Cindy Ericksen at
cindyericksen@gmail.com
. She will send you the questions and you can respond in an email. By the beginning of July we will have collated all the data and determined themes. We will share the themes sometime in July. We are in the process of collating the data from 14 community partners we interviewed. Look for this data soon!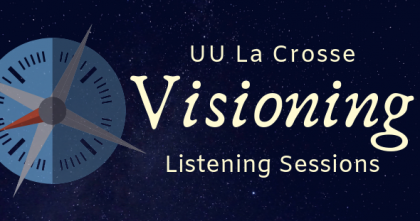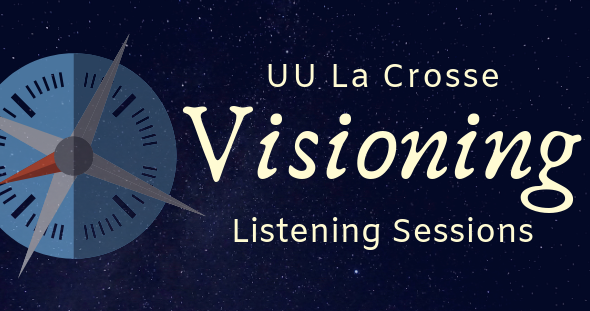 A VISION for the Fellowship is important because it:
– Inspires and pulls us forward
– Motivates and Unites Us
– Guides Action Plans
– Prioritizes Resources


OWL – Seeking Interest and Volunteers
A few fellowship members have created an Our Whole Lives (OWL) taskforce to bring OWL curricula to our fellowship. We hope to start with classes for grades K-1 and 4-6, and eventually offer classes for grades 7-9 and 10-12 as our current students age and/or that population increases. These classes are held separately from Sunday RE classes. Our timeline is late winter/early spring of 2020. You do not need to be a member to participate. For questions, more information or to get involved, please contact Tiffany Brubaker at tiffany.brubaker@gmail.com.
La Crosse Jail to start Weekday Mindfulness Meditations
The La Crosse Jail is committed to providing spiritual programming for a diverse population. Rev. Taves has offered to provide a Mindfulness Meditation during her week in La Crosse. Jail policy requires that there always be two people present in all services provided to the residents. If you would consider joining Rev. Taves to either help facilitate a mindfulness meditation or simply accompany her, email revkristataves@gmail.com.
Parking Notice
Friendly reminder not to park in our neighbor's lot to the South of our building. Anything directly behind our building is open for UU La Crosse visitors. As always, if you are able, please park on a neighboring street.
Join the UU Guilt-Free Craft Group
The UU Guilt-Free Craft Group is in the planning stages. We will meet regularly to knit, crochet, sew, bead, chat, snarf cookies, and whatever else we call "crafting." Sewing machines and comparatively quiet electrical tools are welcome. Band saws might be a problem. As usual, no guilt, no pressure. Everyone welcome.  If you're interested in joining search for our Facebook group: UU Guilt-Free Craft Group.
Caregiver is Here to Help
The caregiver can offer support to those in need by sending a card, making an announcement during Joys and Concerns, and/or publicizing your status and needs via the weekly emails. Let us know the level of care you desire. You may reach the caregiver at caregiver@uulacrosse.org or leave a message attn: caregiver at (608) 796-9993.
Stay Connected and Listen to Past Services
Stay up to date with announcements, upcoming events, and UU news on our Facebook page (UU Fellowship of La Crosse), in our Facebook Group (Unitarian Universalist Fellowship of La Crosse), and on our website — uulacrosse.org
Past services are available for listening online via our SoundCloud page – catch up on Sunday Services from UU La Crosse!