Announcements
Join us for a Team Fair after Service on Sunday, September 15th

Volunteer at Kane Street Garden
Volunteer hours, now until October 15th:
Monday 8 a– 6 p, Tuesday 8 a– 3 p, Wednesday 8 a– 3 p, Thursday 8 a– 3 p
Friday 8 a– 3 p , Saturday 8 a– 1 p, Sunday Closed
Help with is whatever is going on that day, such as weeding, planting and transplanting, pruning, watering, mulching, harvesting, and cleanup. No need to make an appointment; just show up within the scheduled times listed above. Volunteering on a harvest day to get first choice of the harvest!
Harvest schedule:Mon. 3pm – 5pm, Thur. 3pm – 5pm, Sat. 10am – Noon
There are also two group work parties organized in September: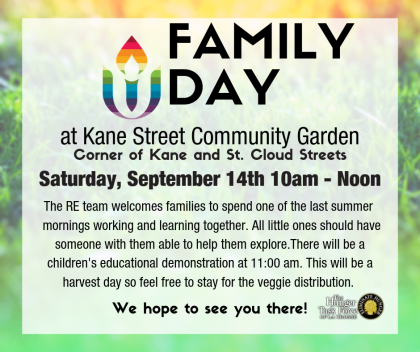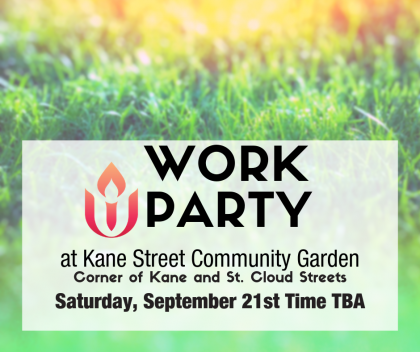 Email info@uulacrosse.org or revkristataves@gmail.com with any questions!
Coulee Region Hunger Walk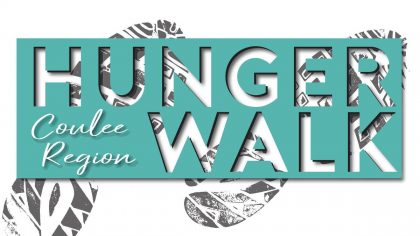 The 5K walk/run on Sunday, October 13, 2019 at 1 PM – 3 PM will originate and end at Myrick Park. It is an un-timed event.
Walkers may designate 30% of their funds raised to another non-profit food program. Coulee Region Hunger Walk is a 501(c)3 non-profit charitable organization. 100% of the money raised goes to hunger relief. Participants are encouraged to collect donations from family and friends BEFORE the walk.
Donations/registration fee turned in day of walk. We walk to raise money for people who are going hungry so we ask for a minimum of $20 per walker/runner.
Two Climate Related Events at UWL This Month
The focus for the year at UU La Crosse is the environment and environmental justice. It happens that this month, UWL has two programs that fit our topic beautifully.
On Sept. 24 at 4:45 pm, Rob Greenfield will speak on "Be the Change in a Messed Up World" at Hesperich Auditorium in Graff Main Hall on the campus. Greenfield, an '09 UW-L alum is an adventurer and activist who embarks on extreme adventures and activism campaigns to bring attention to important global issues and inspire change. Rob will share these adventures and the lessons he's learned on how we call all be the change we wish to see, even in the difficult times that we live in.
UWL's Recreation Management and Therapeutic Recreation Department will host Won Sop Shin, a professor at Chungbuk National University in Korea and former minister of the Korea Forest Service. UWL's own forest therapy expert Namyun Kil, UWL assistant professor of Recreation Management and Therapeutic Recreation, received a UWL Provost Office's Visiting Scholar/Artist of Color grant to invite Shin to campus
During his visit, Shin will present on various forest wellness and human health initiatives in Korea from 6-7 p.m. Thursday, Sept. 26, at Skogen Auditorium, 1400 Centennial Hall. The lecture will be followed by a Q & A session with Shin. The lecture is free and open to all. No registration is required.
Shin will also lead a free public forest therapy walk from 9 a.m.-noon Friday, Sept. 27. The program will begin at the Hixon Forest Parking lot, lower section. The walk requires registration by Friday, Sept.  6 using the online registration form.
Hearing Assistance Available
We have recently purchased a hearing assistance system which consists of receivers with headphones to be used during the service. Please ask our A/V Tech, Giorgia, if you would like some help with this.
Latest Update from the Visioning Team (Mid-July 2019)
The Visioning Team has been actively collecting and collating data regarding the hopes and dreams of the Fellowship for the last several months. We are now synthesizing the data. We have identified 10 themes from the data regarding what people want the fellowship to feel/look/be in five years. We will use these to develop both a Vision and a Mission Statement. Below are the themes. Check them out. And let us know what you think. 
1) Feels welcoming, engaging, enthusiastic, connected, safe, dynamic, and relaxed
2) More diversity in attendees (age/economics/LGBTQ/ethnicity/education/spiritual
beliefs)
3) Community activism/belief into action
4) Proudly known in community for our gifts and message
5) Multigenerational and challenging Religious Education and small group
6) Engage with Community Partners
7) Professional leadership; various alternatives
8) Flexible physical space
9) Develop a stronger identity
10) Internal and external SERVICE
Summer Update for Collection Basket Aiding Those in the La Crosse Area
Here's a list of items which are most needed at this time for folks experiencing home insecurity in our community:
Men's T-shirts
Socks for women and men
Motel-sized hygiene items
New underwear for women and men
These items are needed for New Horizons' Boutique (free items for clients):
Full-sized bottles of shampoo and conditioner
Full-sized tubes of toothpaste
Razors and deodorant
Toilet paper and cleaning supplies
Stay Updated with La Crosse's 'Waking Up White' Regional Learning Collaborative & White Privilege Symposium
Read the book "Waking Up White" by Debby Irving, join in on small group community conversations and attend guest speaker events leading up to the 2020 White Privilege Symposium in La Crosse.
Thanks to WKBT and WXOW for covering the ongoing projects in the La Crosse area fighting against systemic racism, involving UU La Crosse, SURJ and other area groups as a part of the2020 Waking Up White Regional Community Learning Collaborative. Catch the articles below:
Interested in Helping Out at the Fellowship?
A great way to do this is to join a Hospitality Team! There are several ways to help out on a Sunday when you are a part of one of these teams: setting up, cleaning up, greeting, counting money, bringing treats, washing towels, or bringing cream for coffee. Some take no time at all, and some are more time intensive. Each team covers the Sundays in one month four times a year. You can choose whatever suits your situation, yet your participation in the well-being of the Fellowship will feel so rewarding. Contact Donna Bauer at outreach@uulacrosse.org or Jen Miller at jen@uulacrosse.org for more information.
OWL – Seeking Interest and Volunteers
A few fellowship members have created an Our Whole Lives (OWL) taskforce to bring OWL curricula to our fellowship. We hope to start with classes for grades K-1 and 4-6, and eventually offer classes for grades 7-9 and 10-12 as our current students age and/or that population increases. These classes are held separately from Sunday RE classes. Our timeline is late winter/early spring of 2020. You do not need to be a member to participate. For questions, more information or to get involved, please contact Tiffany Brubaker at tiffany.brubaker@gmail.com.
La Crosse Jail to start Weekday Mindfulness Meditations
The La Crosse Jail is committed to providing spiritual programming for a diverse population. Rev. Taves has offered to provide a Mindfulness Meditation during her week in La Crosse. Jail policy requires that there always be two people present in all services provided to the residents. If you would consider joining Rev. Taves to either help facilitate a mindfulness meditation or simply accompany her, email revkristataves@gmail.com.
Parking Notice
Friendly reminder not to park in our neighbor's lot to the South of our building. Anything directly behind our building is open for UU La Crosse visitors. As always, if you are able, please park on a neighboring street.
Join the UU Guilt-Free Craft Group
The UU Guilt-Free Craft Group is in the planning stages. We will meet regularly to knit, crochet, sew, bead, chat, snarf cookies, and whatever else we call "crafting." Sewing machines and comparatively quiet electrical tools are welcome. Band saws might be a problem. As usual, no guilt, no pressure. Everyone welcome.  If you're interested in joining search for our Facebook group: UU Guilt-Free Craft Group.
Caregiver is Here to Help
The caregiver can offer support to those in need by sending a card, making an announcement during Joys and Concerns, and/or publicizing your status and needs via the weekly emails. Let us know the level of care you desire. You may reach the caregiver at caregiver@uulacrosse.org or leave a message attn: caregiver at (608) 796-9993.
Stay Connected and Listen to Past Services
Stay up to date with announcements, upcoming events, and UU news on our Facebook page (UU Fellowship of La Crosse), in our Facebook Group (Unitarian Universalist Fellowship of La Crosse), and on our website — uulacrosse.org
Past services are available for listening online via our SoundCloud page – catch up on Sunday Services from UU La Crosse!