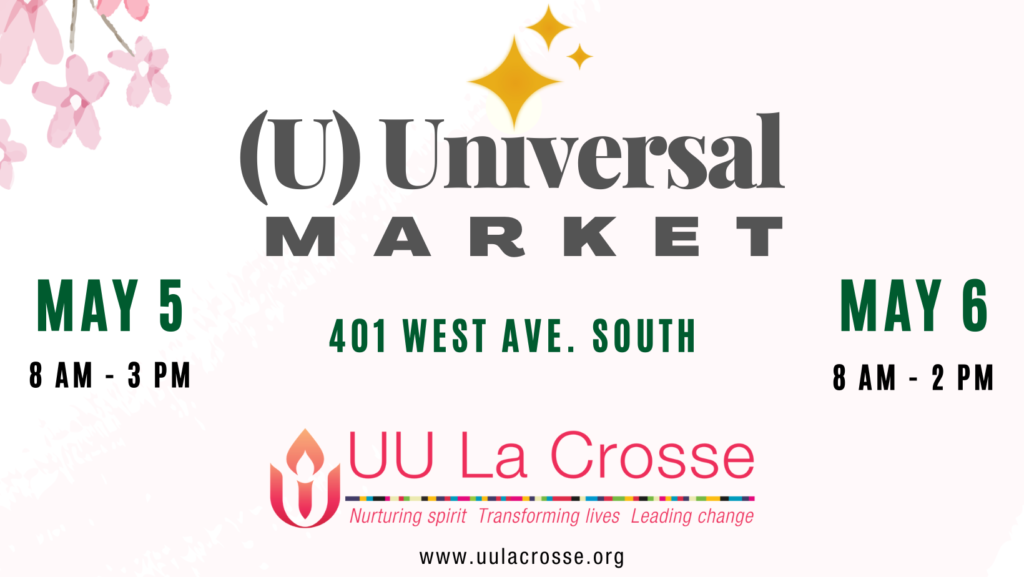 ~(U)Universal Marketplace~
The Unitarian Universalist Fellowship of La Crosse is hosting its very first (U)Universal Marketplace fundraising event May 5th – May 6th! This market will include a variety of shops with curated items for sale to help support our life-giving mission: Nurturing spirit  Transforming lives  Leading change. 
Shops will include:
Indoor and Outdoor Plants 
Fair Trade Goods
The Elegant Flea: Vintage items, antiques, treasures, collectibles, used sporting equipment.
Coffee & Baked Goods 
Gently Used Books
Browse our shops to discover a new treasure to bring home! All forms of payment will be accepted.
Our Marketplace will be open for business Friday, May 5th (8 AM – 3 PM) and Saturday, May 6th (8 AM – 2 PM) at the UU La Crosse Fellowship, located at 401 West Ave. S. La Crosse, WI. Parking is available in our lot and on side streets.