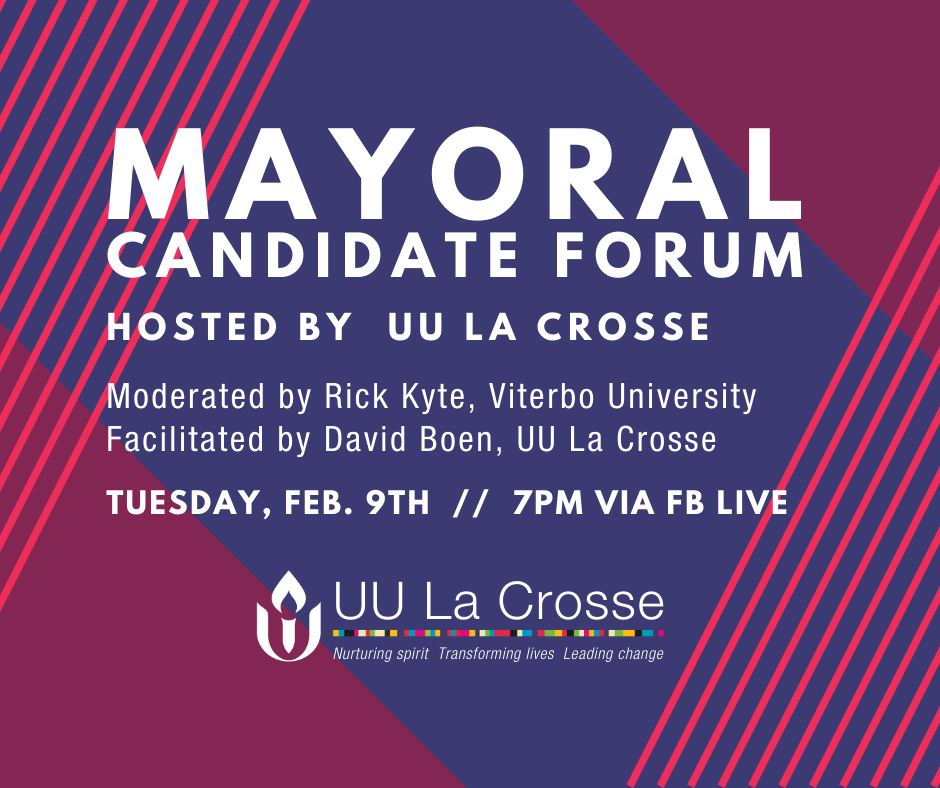 Click here to visit the Facebook Event page here! Please feel free to share with friends and neighbors.
The Unitarian Universalist Fellowship of La Crosse is proud to sponsor a Mayoral Candidate Forum on Tuesday, February 9, from 7:00-8:30 PM. This online event will be live streamed via our Facebook page: 
www.facebook.com/UUFellowshipofLaCrosse
Dr. Rick Kyte, Director of the D.B. Reinhart Institute for Ethics in Leadership and Professor at Viterbo University, will be the moderator.
Serving as facilitator for UU La Crosse will be Social and Environmental Justice Team Chair David Boen.
As of press time, eight candidates have agreed to take part:
* Martin Gaul, City Council President
* Jessica L. Olson, City Council Member
* Vicki Markussen, Business Promoter
* Mitch Reynolds, Operations Manager/Production Project Manager for WholeTrees Structures
* Joe Konradt, Senior Management Professional
* Greg Saliaras, Restaurant Owner
* Samuel Schneider, Cleaning Business Owner
* Kathleen E. Blanchard, Hair Salon Owner
Questions for the candidates can be emailed to David Boen at davidboen@bellsouth.net.
This nonpartisan educational forum will be an opportunity to listen to and interact with the mayoral candidates.