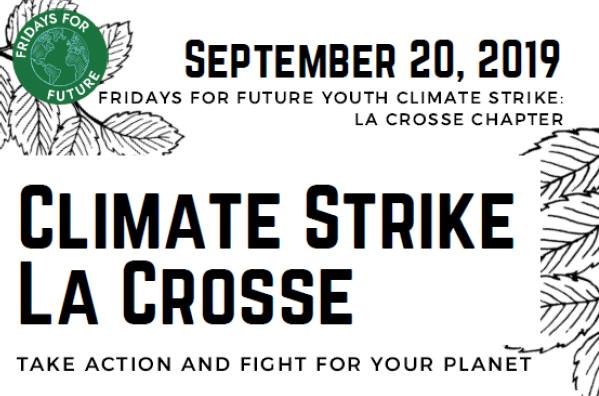 FRIDAYS FOR FUTURE YOUTH CLIMATE STRIKE: LA CROSSE CHAPTER
Events on 9/20 Climate Strike Day:
7:30 to 8:30 a.m

. Commuter Visibility at the intersection of La Crosse Street and Losey Boulevard. Bring a sign stressing that (single occupant) fossil fuel vehicles are big greenhouse gas emitters. Be prepared for weather.

Contact Cathy

.
Morning

 Private prayer service. FSPA.
Noon to 4:00 p.m

.weekly Fridays 4 Future Climate Strike outside Central HS on Losey Boulevard. Allies of all ages welcome.

Contact Anna
12:30 p.m.

Friends of the La Crosse Marsh will host a "walk and talk" on the effects of climate change for the marsh. The meeting point is the Gun Club Shelter trailhead.

Contact David

.
Events during Climate Strike week:
Tuesday, September 24

at 7 p.m.in the Ho-Chunk Three Rivers House, 8th & Main Streets Extinction Rebellion: HEADING FOR EXTINCTION a video from the April 2019 Oxford XR program with George Monbiot and discussion hosted by Coulee Region Sierra Club.

Contact Kathy

.
Resources:
Supporting Organizations: