UU La Crosse to Host Markussen-Reynolds Debate 
Tuesday, March 16 at 7 PM
Livestreamed on Facebook Live  |  Visit: uulacrosse.org/debate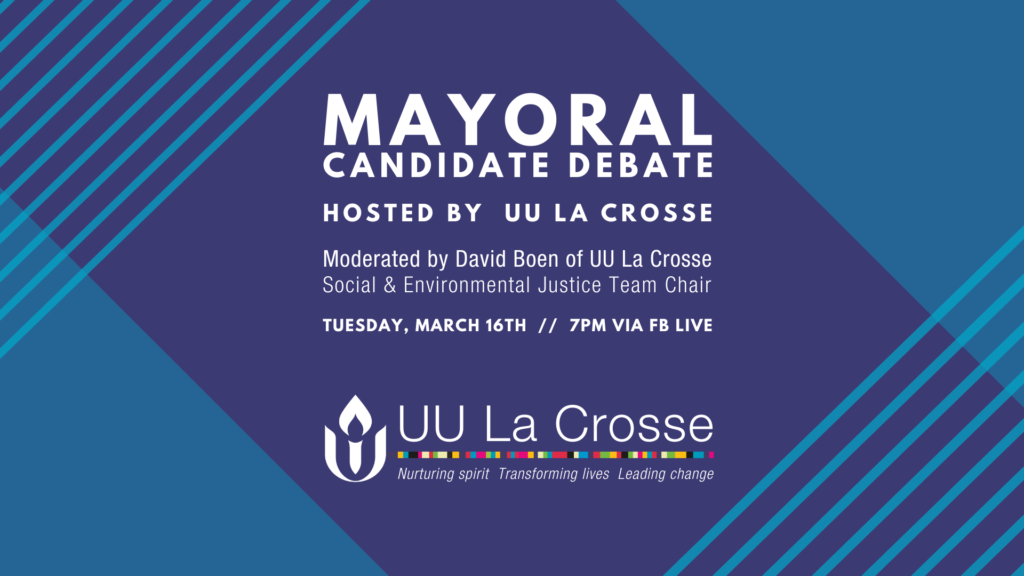 Click here to visit the Facebook Event Page.
This is the direct link to the live-stream.
The debate will be hosted by UU La Crosse, and moderated by UU La Crosse's Social and Environmental Justice Chair David Boen.
Vicki Markussen is the Founder of Engage Greater La Crosse, an early-stage communication platform that tells the stories in our community that are bold, inspire, and encourage engagement. The former CEO of the La Crosse Chamber of Commerce, Markussen has served on more than 20 La Crosse area business and cultural community boards. She is a graduate of UW-Madison.
Mitch Reynolds serves as Operations Manager at WholeTrees Structures, an organization that does sustainable building using whole timber design. Previously, he was News Director at radio station WIZM, where he hosted the program "La Crosse Talk PM."
He holds an MBA from Viterbo University.
David Boen is Chair of Social and Environmental Justice at UU La Crosse. A retired HVAC technical education specialist at Trane Company, he currently teaches sustainability in HVAC Design at Western Technical College.
UU La Crosse has been providing a home for spiritual seekers, freethinkers, and social justice advocates since 1961. Located at 401 West Avenue South, we work to fulfill this mission to the community: 
Nurturing spirit  Transforming lives  Leading change