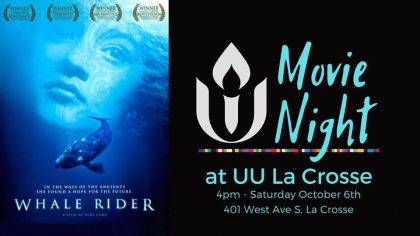 October's theme at UU Fellowship of La Crosse is FORMATION. The Rev. A. Powell Davies wrote, "Life is just the chance to grow a soul." 
Between nature and nurture, who and what we become is a lifelong process. We are both the raw material and the artist. Every experience becomes part of the material with which we can work. Join us to watch Whale Rider and join Pai, a young New Zealander as she finds her place in the world. Only males are allowed to ascend to chiefdom in a Maori tribe in New Zealand. This ancient custom is upset when the child selected to be the next chief dies at birth. However, his twin sister, Pai (Keisha Castle-Hughes), survives. At age 12, she enlists the help of her grandmother (Vicky Haughton) and the training of her uncle (Grant Roa) to claim her birthright. But to break with convention, she'll have to do the impossible: win over her ultra-traditional grandfather (Rawiri Paratene).
Come for a great movie followed by discussion, fantastic popcorn and your choice of seats. Saturday, October 6, at 4 pm.