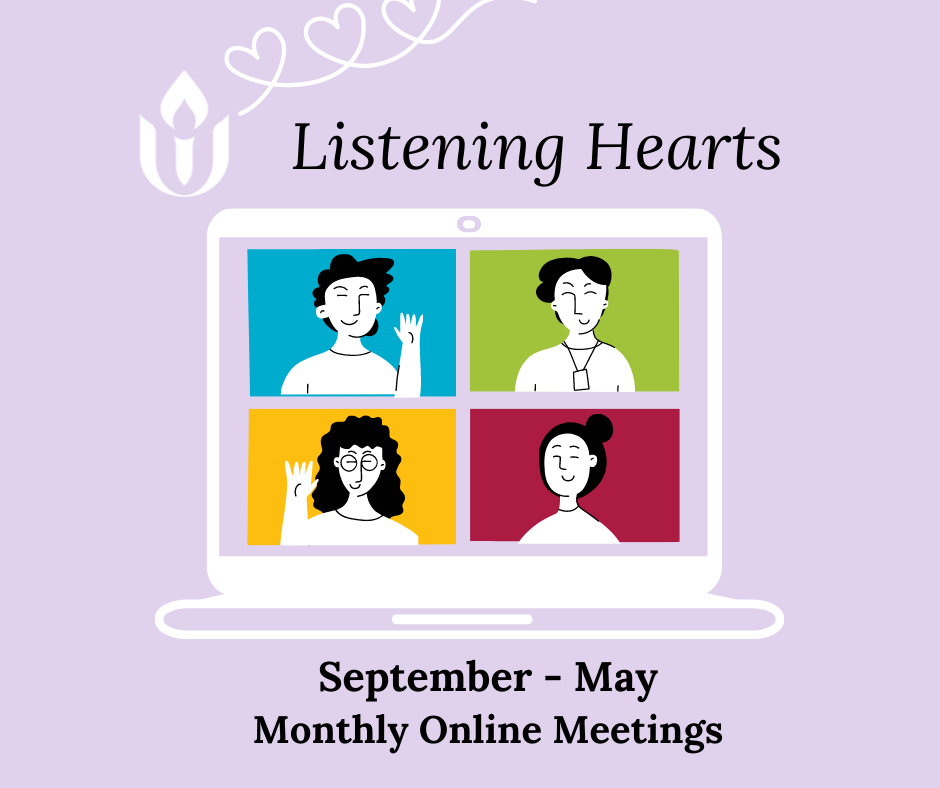 Are you curious about joining the Listening Hearts group? Then this is the event for you! 
Join Rev. Leslie and alums from last year's group for a casual outdoor picnic at Myrick Park. BYO food and something to sit on, and we'll take some time to get to know one another and introduce you to how this group works. It's okay if you aren't sure if you plan to commit — this event is to help you figure that out.
Rather than a discussion group, Listening Hearts is a group for taking the time to reflect on a topic and listen deeply to what others share, without feedback or interruption. We prepare for each session with materials found in the book.
Dates and topics for the 2021-22 year will include:
Thick Stories – September 28, 6:00-7:30 (Zoom)
Compassion – October 26, 6:00-7:30 (Zoom)
Boundaries – November 23, 6:00-7:30 (Zoom)
[No topic] — Holiday dinner party Fri, Dec 10
Trust – January 25, 6:00-7:30 (Zoom)
Spiritual Experiences – February 15, 6:00-7:30 (Zoom)
Addiction – March 15, 6:00-7:30 (Zoom)
Calling – April 19, 6:00-7:30 (Zoom)
[No topic] — Closing Gathering/Celebration Fri, May 13
We will be using the book "Soul to Soul" to frame our online monthly gatherings. Books will be available for checkout or purchase at the picnic, or through the UU office after the picnic.
Participants will need to commit to attending and participating in all sessions in order to deepen group dynamics. If you have questions, contact Rev. Leslie at minister@uulacrosse.org.
Ready to sign up?