The La Crosse Welcome Circle assists Ukrainian immigrants in our area to navigate language and other challenges to life in our region. The team settled two Ukrainian families into the community last November, with victories and setbacks for everyone involved. And they are currently working to welcome two more families to the area. This morning, Jan Gallagher and Heidi Griminger Blanke will be sharing their experiences working with The La Crosse Welcome Circle.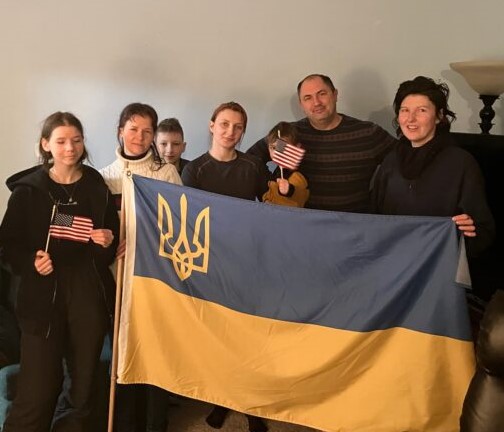 Jan Gallagher grew up in Minneapolis. She married her husband, Jim, and lived ten years in Dallas where her two children were born and Jim completed his academic work at SMU (and she was a member of the Dallas UU fellowship). She has been a La Crosse resident for more than 45 years, working in many different roles as both employee and volunteer. At UW-La Crosse, her roles included being Director of the Business Development Center for 17 years. Her volunteer work has been in support of New Horizons, YWCA La Crosse, family planning, the Women's Fund, the La Crosse Arts Board, the La Crosse Symphony. and League of Women Voters. Since Spring 2022, she has been part of the La Crosse Welcome Circle in support of our Ukrainian newcomers.
Heidi Griminger Blanke moved to La Crosse in 1985, presumably until something better came along, but the city turned out to be a good fit. She taught business courses at Viterbo College, was the Executive Director at WAFER, and has written numerous articles for area publications. In addition to the La Crosse Welcome Circle, she sits on the boards of Mississippi Valley Writers Guild and Congregation Sons of Abraham. In the past, she's been involved with Rotary, YWCA La Crosse, and other area organizations. Heidi lives with her husband, Scott, and they have three adult children and two grandchildren.
Youth RE Classes will take place this Sunday!
For information about attending in person, links to Zoom login info, Sunday's Order of Service, Online Giving and more click here –> linktr.ee/uulacrosse
Join us after service for our Annual Meeting & Volunteer Recognition!